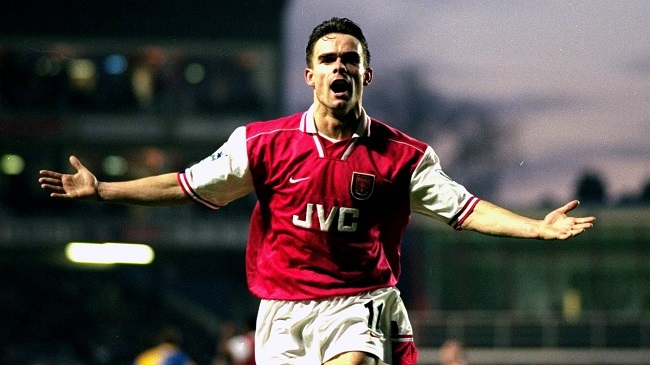 Marc Overmars is a Dutch former footballer and the current director of football at Ajax. During his footballing career, he played as a winger and was renowned for his speed and technical skills.
Overmars was born in Emst and was passionate about football at an early age. He began his playing career at SV Epe before joining Go Ahead Eagles' youth team in 1987. He secured a place in the first team by the 1990–91 season, but joined Willem II in time for the following season. His stay at the club was short; after 31 appearances he signed for Ajax in 1992. He established himself as a key member of the team that won three Eredivisie titles from between 1994 and 1996 and the UEFA Champions League in 1995. In December 1995, Overmars sustained a cruciate ligament injury which ruled him out of playing for eight months.
In 1997, he joined Arsenal; his performances at the club were indifferent to begin with and attracted criticism from football pundits and fans alike. By the end of his first season, Overmars became a focal point of Arsenal's league and cup double success. He scored the winning goal against league rivals Manchester United which set his team on their way to securing the Premier League title and opened the scoring against Newcastle United in the 1998 FA Cup Final. In 2000, he moved to Barcelona in a deal worth £25 million and became the most expensive player in Dutch football history.
The club failed to win silverware during his stay and numerous managerial changes made him a peripheral player. A persistent knee injury prompted Overmars to announce his retirement in 2004, but he reversed his decision in 2008 and went on to play one season for Go Ahead Eagles before retiring again.
In 2012, he was named as Ajax's director of football.
Many tabloids and rumors from Amsterdam and London are linking Marc Overmars to Arsenal as new sporting director for the next season.
Our former player joined the Ajax board five years ago as director of football, but I don't understand how is big his impact on decisions, scouting, if he talks with players and media or prefers to be a ghost figure as Ivan Gazidis.
However, thanks to his work Ajax earned 170M (more or less) from the departures [Vertonghen to Spurs, Anita to Newcastle, van der Wiel to PSG, Eriksen to Spurs, Toby to Atletico Madrid, Blind to Manchester United, De Jong to Newcastle, Milik to Napoli, Cillessen to Barça, Bazoer to Wolfsburg, El Ghazi to Lille, Gudelj to a chinese team, Fischer to Boro].
Talking about the players bought, it's difficult because Ajax prefers to privilege the Academy's products. He bought Schone (an important player now for them) for free, Bojan and Cuenca on loan from Barça, Onana for 150k, Milik for 3M, Younes for 2.5M, Bertrand Traorè on loan from Chelsea, Neres for 12M (I don't know this brazilian player but looks a future super star), Ziyech for 11M and Davinson Sanchez froma a colombian team for 5M (Barça want him).
@DutchGooner, can you help us to know?