Ooh I wonder which player that isn't Lauren we'll talk about in this thread. Can I suggest Nelson Vivas?
Expert penalty taker

Better than any RB we have right now and he didn't even start at Arsenal as a RB
@Aussiegooner who was his debut goal against?
That haircut he has in the 04/05 home kit pic is iconic
My absolute favourite moment of his was him kicking Ronaldo about ten feet into the air at Highbury. Good times.
Luis Boa Morte? Christopher Wreh?

Iconic celebration. He just didn't give a fck that day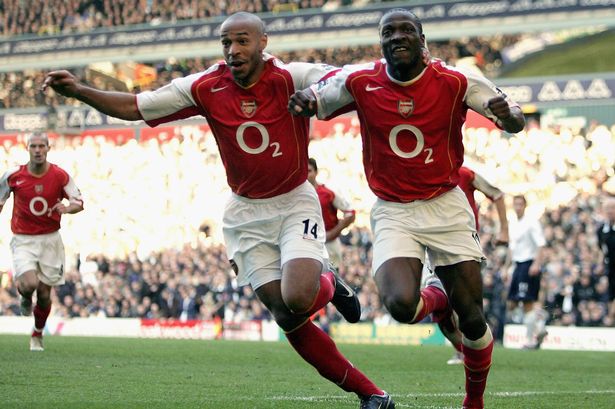 Do you remember the FA Cup game at Old Tartford in 2003? Giggs passing the ball back to Lauren for a free kick who just so happened to be sitting on the floor with his legs open after being challenged. Ball hits Lauren in the old "Phil Babb" region, he looks at the referee, and goes down screaming

Fun fact about that goal.
Every outfield player got a pass in before the goal apart from Jeffers whose lovely little dummy set it up for Wiltord.
#Ryan Giggs, Ryan Giggs
Missed an open goal
Ryan Giggs, Ryan Giggs
Missed an open goal
How did he miss?
Arsenal took the piss
Ryan Giggs
Ryan Giggs
Ryan Giggs #
Man I'm gonna say Liverpool at Highbury in an early season 2-0 on what I think was a Monday night match at Highbury in August 2000.
I think we lost to Sunderland 1-0 on the opening day before that game with big Paddy getting sent off. Would have been very early on in Lauren's career at Arsenal this goal.
Loved his nerves of steel penalty in the NLD at Highbury late in 01/02 not long after Spurs restored parity.
Spot on, son.
First time we'd beaten them in 6 years. In all competitions. Long, long, long overdue.
That Paddy sending off at the Stadium of Light was ridiculous. Fouled three times within a minute then he lashes out and gets sent off. Vieira's best season 2000/01, in my opinion.
We won't go to much into the 2nd meeting against them that season at Anfield just before christmas, pretty ugly 4-0 that one.
Strange season actually, from memory we beat United at Highbury with the wondergoal but lost 6-1 later in the campaign at OT.
The Igor Stepanovs game


Scant consolation but we scored the best goal of the game
Remember how we bounced back?
6-1 v Leicester on Boxing Day

If I'm not mistaken I think Southampton were one team we couldn't beat that season. Lost away and drew 2-2 at home.
(Or was that 99/2000?

)
I remember the boxing day bounce back but you have me on the Southampton stuff. All I recall about Southampton in those days was Henry getting his first goal in a 1-0 at the Dell in 99-2000 and if I'm not mistaken they were our last dropped points in 01/02 before a 13 game win streak to end the season after a 2-2 draw at Highbury in Feb.
You're right- 99/00 was Henry opening his account.
00/01 was 2-2 at home and 2-1 away in the last game of the season. Last game of the season…francis fckin Benali and le tissier scoring in their last game for Southampton in the last game at the Dell

. 04/05- Southampton was also the last time we dropped points before a long winning streak (RvC sending off)
00/01- I don't think we beat Chelsea in the league that season, either. 1-1 at home and 2-2 away
At least the draw at Stamford Bridge was a come from 2-0 behind draw with a superb equaliser in the 87th minute from a Brazillian LB. That was a midweek game also from memory.
Controversy time- Henry's goal to make it 2-1 was better than Silvinho's equaliser.