Name: Joseph Willock
DOB: Aug 20, 1999
Pos: CM, AM, LM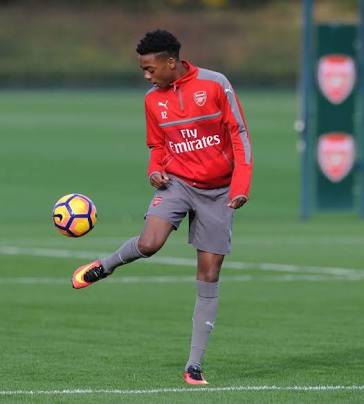 Surprised this hasn't been bumped yet tbh.
That was like the archetypal Henry finish
Hahahahaha yeah was a great finish tonight.
Would like him in the first team squad next season. He's impressed anytime I've watched him
Good movement off the ball. Seems like a kid that understands the game. Still a bit anxious with the ball but that can be fixed.
Will be a good squad player from next season onwards, replace Elneny spot. I don't know over the long term that he be a Arsenal player but I'd give the guy a chance to see if he has what it takes to be a Arsenal regular.
Willock is still work in progress but he made a statement tonight when he came on. He missed his chance but he got himself in the position to miss playing without fear and not hiding. This experience will serve him well.
yeah he did pretty well in his little cameo, wonder what will happen to him next season
Loan or stick with him as a squad player?
I fear Emery's bum squad management won't allow him to see much game time unless everyone else is injured.
I reckon Nketiah and Willock would have announced themselves to the world this season if Wenger was around.
He got a lot of praise and he may have a bit of promise, but he spewed a fucking sitter tbh.
He got in the position for the sitter though. You know, if Emery gave those players some more minutes he may have been sharper. Although, our 'lethal' striker finished the season like a bosman with just the EL final to go and the guy couldn't hit the ball to save his life.
Along with Smith Rowe, Nelson, Nkeitah and Wilock have got to be seen a lot of first team football next season. We need to start bedding in a lot of these youngsters if we're not going to spend big in the transfer market. I think fan's will get behind it if they hit the ground running and Emery show's faith in them.
Kind of agree here. If we go for the long term this season onwards then we might as well start building a young squad, signing players on the younger side as well.
Nketiah I would definitely loan out though, if Laca and Auba both stay.
Saliba, Grimaldo/Tierney/Jamal Lewis, Cyprien, Fraser and Sarr(not a fan but could be worth the risk I guess) seems doable I think. Add Nelson, ESR, Saka, Willock, Amaechi, etc. implemented into the main plans. Anything in the Top 10 I don't mind really. Refine our squad next season by identifying the weaknesses found and make strong investments where needed.
If we're not going to spend big on stars, we need to create our own. Won't be pretty, might fall further behind for a few seasons but we might need to take a few steps back to get back to the top of the summit. Also not to be used as a feeder club either, let the top clubs take away our best talent.
I probably let Nketiah go out on loan to a PL team or a German side. Bring in a third choice striker on the cheap and who offer something different to Auba and Laca.
Yeah probably a 3rd choice striker with some presence in the air.