Bayern's chances back up to 99.99 from 99.98

Rumours of Bellingham going to Liverpool. The joy of selling Rocky.
Bayern Munich about to clinch the title. Shock, I know.
we should be after getting this guy back to the emirates as well in the summer
Gabriel Jesus and Gnabry


Good game (HT atm) lots of chances in both ends, high test atmosphere, players angry at the ref, the managers, each other etc.
Gnabry had another goal as well that was ever so slightly offside (Coman in the buildup).
News just in from 3022
Bayern have just won their 1000th title in a row.
Great to see the Dortmund Model is making them competitive with Bayern…not. As per usual.
One team banking trophies the other banking cheques.
Who knows, maybe if we sell Pepe
Farmersliga, forever making a mockery of their own league.
If they are second still that league is even more embarrassing lol
Yeah not sure how it's embarrassing when they are pretty comfortably second and the team winning the league is a stacked European giant.
Do all these critics genuinely think Dortmund should be winning the league?
Well when they keep getting record transfer money,l you might expect them to at least invest some serious money and have a good go once or twice
Bayern after their domestic rivals players shocker


This leagues reputation is in the absolute toilet.
Farmersliga if Rangers can beat your two best teams not named Bayern lol.
Last day of the regular season in Germany. Hertha (15th) needed a point to be sure of staying up. Stuttgart (16th) needed a win at home to Koln to have a chance of staying up.
84th minute Moukoku scores for Dortmund and they go 2-1 up vs Hertha. Stuttgart need the 3 points in their game where it's 1-1. 90th minute rolls on, 4 minutes of added on. 92nd minute…
Goal difference!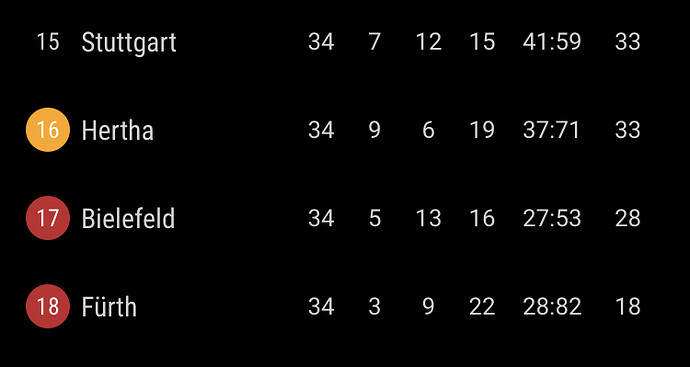 And with that…Kostas Mavropanos will be an Arsenal player no longer.

Also, Hertha now face a relegation playoff.
Funny now how after all the critics the Bundesliga has 5 CL spots in 22/23.