If he does come in, surely it means we've finally given up with Pepe.
We(or better yet our manager) gave up on Pepe a long time ago.
But hes still in our squad.
We give up on him when we decide to sell him on.
When was the last game he started? There's your answer.
He changed his agent/agency recently, reports suggest both Arsenal and he want to part ways. I can't see him staying. At worst he goes out on loan.
Yer get your point mate, and I agree to a certain degree. But as long as he is in our squad it tells me Arteta sees him as part of the team still, in whatever role.
We need to cut our losses and move him on, then we will know MA has finally moved on from him.
dump that stupid wrong footed concept, Saka looked more comfortable and natural on the left.
Saka on the left? Yes please. Think I'd rather see ESR used more on the right as well. We have enough lefties in our team to not need to play Saka on the right.
Well, with Saka, Raphinha, ESR and Martinelli we have the flexibility to tweak and adjust our approach from game to game as we see fit.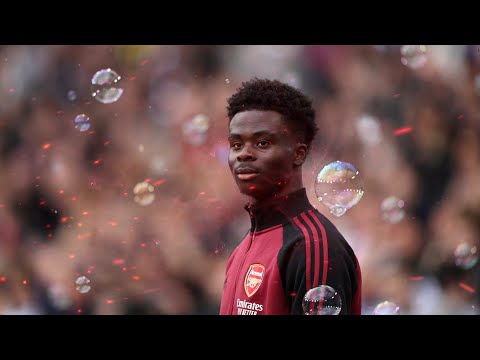 Every time he gets the ball he's swarmed 3-5 players. Madness.
Gonna be a big revelation next season when we add more ball carriers and creators in the team.
Just imagine Jesus, Raphinha and Saka as the front 3. That could be something very special.
Please continue to do that next season we will kill teams if they do that. If he drags 3 or 4 players with him Jesus and Raphinha will be clinical enough to really punish gaps. It wont be like last season that if a gap is created we have players on the end of it that need 15 chances to score 1.
Reported on Latte Firm podcast tonight that Saka is expected to sign a new contract before the start of the coming season. It seems interest elsewhere pushed Arsenal into opening discussions.
Did they have a journalist on that reported it?
Saka is the poster boy of this current cycle. Imperative that we keep him.
He's going to be a consistent 20+ GA player when he reaches his final form. And the way he magnetically attracts defenders towards him creates space for others. Hopefully with Raphinha, Ødegaard, Jesus, Vieira or possibly Tielemans capitalising on that space, we will be a much bigger threat next season.
It's looking good but we absolutely have to keep Saka. Would be a devastating blow to the club to lose the jewel in our crown. His contract situation is going to give me palpitations until he extends
If Saka went and Raphinha and ESR became our options on the right wing, I genuinely wouldn't lose sleep.
If his head hasn't been turned, then yes of course you make him an amazing offer as he has been our best attacker over the past 18 months and seems too have a brilliant career in front of him.
If Eddie, who has achieved next to nothing at the top level, is getting 100k a week and Jesus 200k, then Saka has to be offered at least 150k and some guarantees that the club will be moving ambitiously.