Bournemouth vs Arsenal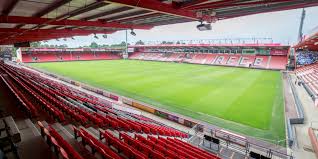 Vitality Stadium

Saturday 2023-09-30T14:00:00Z


Premier League
Result
Bournemouth win
Draw
Arsenal win
We're playing away, so we'll win with a cleansheet.
2-0 to the Arsenal.
I think Eddie probably gets benched next game after playing a full game against Spurs and almost the full game against Brentford.
Still tough to predict the lineup though with so many players being doubts for the next game.
Raya
White-Saliba-Gabriel-Zinchenko
Jorginho
Odegaard-Vieira
Saka-Jesus-Trossard
Depending on when Rice/Partey are back, either would fit in there
Aren't Saka and Trossard out ?
I'd rather see Nelson get a start over Jesus wide and Eddie up top.
lol 60% of our first team are out with injuries. Interesting how this happens as soon as that doctor left to join Utd.
Ever since Ten Excuses mentioned us not having injuries, all we have had is injuries…
Damn, I've jinxed us with Havertz up top pitch.
To be honest, for Bournemouth away, a front three of Jesus-Havertz/Nketiah-Nelson should be fine.
Saliba a doubt as well according to the bloke just now on the radio
Arteta said Saliba has a knock, Vieira too…
Wth is going on and this is only start of the season
Hopefully we better a better run next campaign.
Jesus Nketiah Nelson
Havertz Odegaard
Jorginho
Zinchenko Gabriel Tomi White
Raya
Lots of pressure on Odegaard and Jesus to carry the attack but its not a bad team by any means considering all the injuries.
The worrying thing is we're not even in the thick of the schedule yet, it's just getting started. All the injuries piling up at this stage already.
Yep. Depth this season paying off big time.
If you really deep it, we have Partey, Rice, Timber, Saliba, Saka, Martinelli, Trossard ans Vieira out and we can somehow field a strong team still.
Probably an aftereffect of the load from last season and US tour.
Tbf, we're not the only team suffering injuries. Chelsea have had it, Man Utd too. City had it a bit at the start but nowhere near the same level.
Spurs and Liverpool have lucked out so far.