Probably this season's non-adidas range. I wonder if they have to wait until all of the 2023 adidas releases are out of the way.
I could be wrong. I'm done for this season anyway.
Gotta appeal to the roadman market segment lol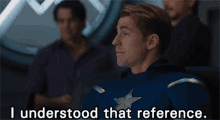 they going fencing with that?
Yes, but not the kind of fencing youre thinking about
Has someone let adidas know that we're not in the Europa League this season so there's no matches in the polar circle?
I love the thick tops with the neck warmers (this season's black one is excellent) but this one has too much going on. I'm kind of glad it's not a beauty, as I've spent far too much at the club shop this summer.
Merch FC strikes again

https://twitter.com/arsenal/status/1701506966906863963?s=46&t=LlMNFvsPPy2ozwuX8FhQrA
Disappointing. The rumour was a third shirt without a sponsor but it turns out to be some additional bits of leisurewear in the same colours as one of our kits, like we always have for each kit anyway.
The actual matchday kit is a far nicer design.
Weekly merch drop

https://twitter.com/arsenal/status/1704058495102833030?s=46&t=LlMNFvsPPy2ozwuX8FhQrA
looks like a heat pressed badge which is really cheap and kind of disappointing. Love the color scheme though.
It's a nice looking kit. Wouldn't have been upset if the men had had it as a third kit.
Wake up babe, new retro range just dropped.
Hmmm, that's not for me. I didn't particularly like the 94/95 Nike Kits or that rendition of the Arsenal badge.
This whole "a bit like an old shirt" merch baffles me, some just end up looking like the hilarious cheap fake kits you'd see at Dagenham Market back in the day.