Did you miss it? Yeah, it was announced shortly after All Out.
Great matches in both WCW and WWE. R.I.P legend
Do people know that he actually preferred going by Eddy and not Eddie?

There was one tournament he was in on the Indy circuit called the King Of England tournament. I can remember watching it on some random channel back in the day (Challenge?)
He was awesome in it.
Potentially silly Q but how popular is AEW generally? Is engagement and ratings high?
Then how popular is AEW in comparison to the current state of WWE?
It certainly seems like it's grown a lot since crowds came back. The Danielson and Punk signings seem like a watershed moment for them. In terms of viewership they beat NXT very comfortably and when they went head to head with Smackdown although they had a smaller total audience they did win the 18-49 (or whatever it is)demographic.
I think more generally, I don't think there are many fans who haven't watched at least some AEW in the last year, the quality of their roster and shows is quite hard to totally ignore, especially because WWE has continued to display its worst excesses in the same time period.
I'm just watching last nights PPV at the moment. Have watched Allen Vs MJF and am on FTR Vs Lucha Bros and despite the contrived spots in both matches, the energy and quality is outstanding. The first hour of your average WWE ppv can be very lethargic by comparison.
It's pretty popular within the wrestling community and is slowly reaching to casuals.
WWE is definitely way ahead when it comes to global reach given their rich history.
In fact, that's the probably the only thing WWE is hanging onto at the moment. Their programming is certainly at an all-time low and it doesn't look like it's gonna get better any time soon. Rumour has it the company is getting prepped to be sold.
I think the AEW programming took a bit of a dip last year but the arrivals of CM Punk and Bryan Danielson have certainly added a new edge to the show.
The past 2-3 months have been the best they've ever looked. Roster is deep, storylines are interesting, and the matches for the most part are very good.
There are definitely some silly parts in there still but I think they're slowly phasing them out.
I think next year will be a defining year for them. Their roster will most likely get deeper, TNT is doubling down on them, there seem to be some interesting plans in place, and I believe they're also coming to the UK as well.
Every fucking time I am reading it as Denilson

This was filmed ahead of his All Out debut but has resurfaced again with people remembering Eddie.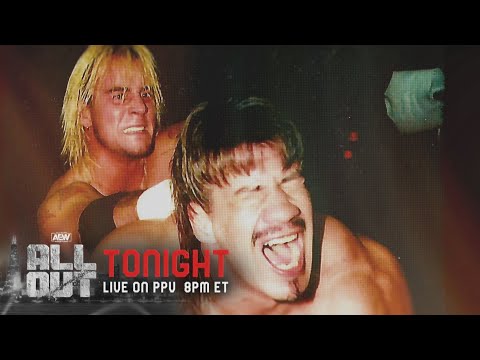 Eddie really had a soft spot for "Punkie".
What did you think of the PPV, mate?
Some great matches and some really OTT spotfests from the usual suspects.
Punk v Kingston was MOTN for me. Proper big match feel.
The opener between MJF and Darby was the second best match.
Britt vs Tay, Miro v Bryan and Kenny v Page were also good matches.
AEW should probably consider shaving off that fourth hour and have less matches on the card. It's honestly a bit much at times, this PPV was a good example.
Totally agree with you on your take.
The tag march coulda been better. The end seemed like a botch (i.e. it felt like it was set up for them to continue and FTR win)
Inner Circle match was OK. Didn't ruin the MMA talent.
They need to do more with Adam Cole. That 6 man tag match was kinda crap.
Mero and Danielson seemed laboured. Mero winning it with that killer submission finishing move woulda been a better outcome, in my opinion.
The previous PPV was better (one of the best PPVs ever) but this wasn't bad.
It's particularly exhausting because a lot (but not all) of AEW's ppv matches are spot fests which get diminishing returns through the night. I wish they had a few more matches that told a simpler, more effective story in the ring. Still a very good show, but like you I felt it could have done with being shorter.
This is why I can't wait for The Elite implosion. Kenny is certainly gonna take some time off but I hope The Cucamonga Brothers join him. That Falls Count Anywhere was just ridiculous and very selfish from them.
That match had no business having so many high spots and violence. They even added blood which should have been kept for Punk v Eddie and Kenny v Page.
The idiots must think they had a great match as well when in reality they tried to sabotage the PPV by burning out the crowd and wasting important spots just under 2 hours into the show.
Not the greatest but a great for sure
Probably just about makes the top 10
It's a toss up between him and Austin, and I love Austin but Rocks electricity was just something else.