U.S. political theater is inching closer and closer to Mike Judge's classic 2006 movie "Idiocracy".
She's in for a real shock about how Republicans treat women and trans people.
Wow I didn't think she'd be running as a Republican 🤦🏼
What do mean that's genius
In a one party system, does it matter what colour tie you wear?

The state of the Republican Party - elected officials and electoral base - summed up in two videos from today.
Is there a different BLM that does planetary stuffs? What's going on?
I think he is talking about the Bureau of Land Management there. Its a government agency that helps run and maintain public lands.
But, no, they do not have the ability to change the earth or moon's orbit in order to combat climate change.
Knowing the Repubs they're clearly throwing out red meat for their rabid supporters. Their whole schtick is plausible deniability but they do it all the time.
Sodom

Hussein—"What? It's just my accent."
barack…


HUSSEIN!!!

…obama
ObamaNation…what it's just my accent

[quote="JakeyBoy, post:2126, topic:177, full:true"]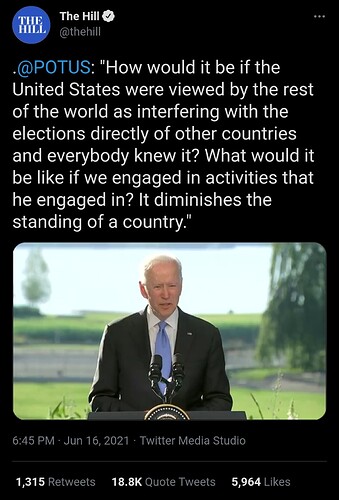 I'm having a hard time imagining such a thing.
[/quote]
Well yeah, because it's never ever ever ever ever happened.
Leave him be. He probably doesn't remember anything prior to 8am
The lack of self awareness is astounding
Because that's exactly how most of the planet view you

People with dementia have poor short term memory and good/decent long term memory
Yeah Ben because it's not like Crime isn't already banned you know, that's why it's called crime


Ffs how do you get all the likes for spelling out the joke.
No justice in this world.
I think this might actually be stupider than the time that he said that if climate change caused a rise in sea levels that flooded coastal regions, the people who live in those areas could simply sell their properties. To fucking Aquaman, I guess.
It's about time someone made crime illegal!