Clear of Lewa and Benzie btw. Can't believe this bastard is a gooner yet is a Scum legend.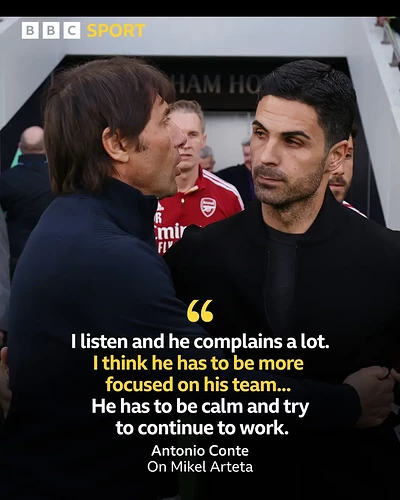 The gall of this secretly bald cunt, when he's done nothing but whinge and complain about his own fucking side since being appointed.
He ain't clear of nothing
Lewandowski is #1 and I'm having Benzema #2
Still a mediocre season by Kane's standards, hasn't even been the best player on his own team
Conte is a wind up merchant. He knows he is a serial moaner and a real bitch but he also knows how to wind other managers up lol
These type of comments are designed to antagonise unless he's the least self aware man to ever manage in the PL
I rate Kane highly and I genuinely think he's a world class player who's had a ridiculous career (from a personal perspective rather than his trophy haul)
He's developed a great all round game too but he's number 3 in that list for me too.
Yeah he is an incredible striker and prior to this season he'd be #2 for me but Benzema has had a truly remarkable season moving up a spot
Kane has some work to do
He knows what he's doing. Rattling Arteta and the team ahead of the Newcastle game.
The team needs to fully concentrate on Newcastle from today.
He has evil running through his veins, any manager who has been in charge of Juventus Chelsea and spurs spreads disease famine and pestilence, at least Mourinho has a certain charm about him. Conte has something of the night about him.
Well, he did manage Juve.
One might call him the Old Lady of the Night.
The touchline Dracula.
@GC-Maniac BTW, I'll give Arteta and the team more druthers than to be bothered by that cunt's remarks.
I always see Jools Holland when I see him.
Won't be a happy new year in these here parts if he gets 4th
They had their moment yesterday, closest thing to a trophy they're likely to get for a long time.
I truly hope we make their win absolutely meaningless by securing top 4 anyway.
Their fans and the scum loving media going nuts over this result. We're still 4th ffs, acting like Spurs have gone ahead of us. Twats everywhere
Even if they get 4th they will go nowhere as City and Liverpool are too strong and Kane and Son only have a year or two left at elite level. They will likely continue to improve in the short term but still win nothing, then face an abyss afterwards.
Spurs fans have come to take it for granted that they have two of the best 4-5 forwards in the league. Going to be hilarious when that ends.
Conte is pants in Europe too
How does it work by him running them into the ground in the league and then playing them in Europe too, his football style doesn't mesh well with multiple competitions
You could say the same for us tbh, even if we get 4th we're going nowhere as City and Liverpool are too strong.
No way we're ever competing at the 90 point +60 GD level.
Sadly I agree. But at least we have a fairly strong foundation for the future, when perhaps the level of the top teams goes down eventually. It probably won't happen but one can dream. Spurs are betting heavily on the next two years with Conte, Kane, and Son still at the club and on top of their game. Its a terrible time to be betting on the present given the strength of Liverpool and City.
At least our squad is young, their key pieces are soon to be 30 or over that already.
Yeah our squad is young I agree. But I think I've said before I personally think Saka is the only one with true world class potential. We do have lots of young players I'm just doubtful the ceiling is as high as many Arsenal fans like to believe.