Sounds like the right manager for spurs I hope he signs soon
Although that comment is funny, as well as being a massive insult to spurs, would it be any different if it was us who approached a top European manager like Conte?
What sort of "project" would we have to persuade any prospective manager to come here?
Saying that, would we even approach a top European manager?

I bet he spoke to Levy once, and decided it wasn't worth it.
It's probably more likely that he finally got around to watching that documentary and wanted to be as far as possible from this bunch of losers.
That's a great choice especially as it looked like they were going to get Conte, who seems as to be waiting for us.

I can't imagine Fonseca being a big enough name to persuade Kane or even Son to stay.
So Everton with Nuno and Spurs with Fonseca. As much as some want Arteta out this is your level of replacement.
Not much point IMO or likely chance of improvement.

All the top European managers are saving themselves for us.

I doubt Kane will be enamoured with this appointment, but will he go above and beyond to secure a move away from Tottenham? I don't think he will.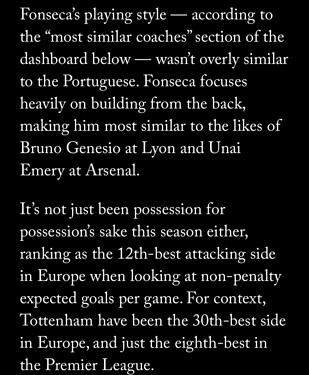 I'll tell you now this guy was rightly shifted on from Roma.
Yeah we can speak about the squad not being that great but he never moved them on at all and just effectively kept them in the same place and eventually contributed to them sliding down the table.
In other words, he isn't a coach that will get his team punching.
So we have non penalty Xg now do we. 12th best attacking side in Europe.

I think next season is the textbook "one more year please Cesc

"
That would've been a very good appointment so 8m glad about that. Turned down by Cinte and Lopetegui, not sure who the manager will be but he won't match those two
Turned down by Nagelsmann, Flick, Rodgers, Ten Hag, Conte, Pochettino, and Lopetegui.
Ahhh the topspur guy. Classic
That's an impressive list.
It would be interesting to see if we would get turned down by a top European manager but until we approach one we won't find out.