I've backed Discorama, Mister Malarkey, Cabaret Queen and Talkischeap in honour of the late, great DMX
Ended up doing Kimberlite Candy as well as Potters Corner and Lord du Mesnil. Expect them all to fall

Any Second Now will be my horse for the Grand National.
Rachel Blackmore is incredible what a jockey
Cheltenham then the Grand National
Well no money here

but happy to see a woman win.
Discotheque was 4th at one point then tired
Ah well still enjoyed it
Any Second Now would have won if another horse didn't almost take him out early in the race. No money lost with the top 3 finish. Well done horse!
You can just casually bet a grand?!
When I'm high on the marijuana's, I'll occasionally take a little risk for some quick capital. Will reinvest the profits into some stocks or coins, and keep playing with the initial £1000.
Not convential I know

Haven't placed a bet in almost 2 months which is extremely good for me. Safe to say my bank account is looking healthier
Nice one. Winning bets in lockdown were Amazon purchases. Now you get the option on going out again.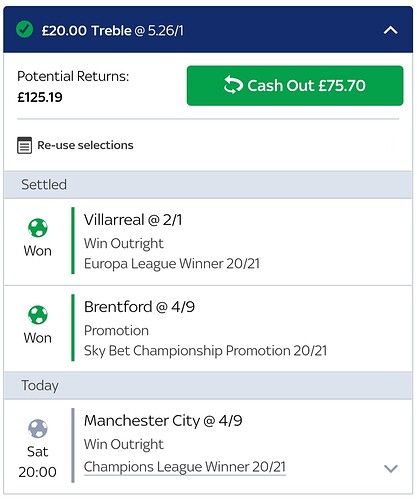 Small time bet but shall I cash out? Getting bad vibes for tonight. Everyone's writing Chelsea out which could backfire…
Chelsea are going to win, so yeah cash out
Check on the Gundogan injury scare first.
You didn't cash out did you?
I hope he took my advice. I am the betting queen after all.