Use this for all tennis related stuff.
I really fucking hate the williams sisters. How are their steroids bypassing the drugs testing???
Can't wait til they retire they've ruined women's tennis.
Haha I swear she's in the Wimbledon final every year?

Really great final that today. Not often you get an attacking match of that quality in the women's game.
Held her nerve the better of the two Serenna Williams but Kerbers day will come.
Not seen as many good rallies in a women's final before.
Andy wins Wimbledon! Yeeeeeeah
About time he won another slam.
Yeah, I'm happy for a gooner like Andy, but I watch his games for only one reason: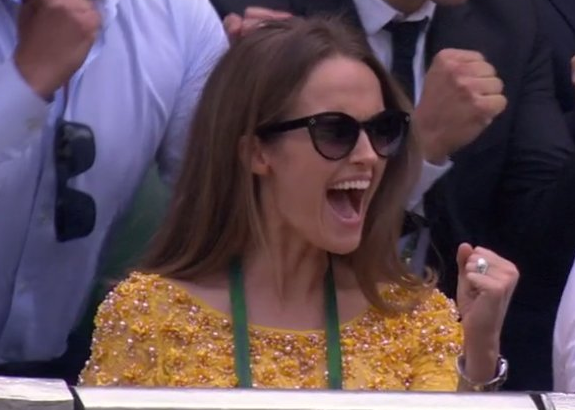 Congrats Andy!

Pretty ordinary way to get the No 1 ranking due to a walkover, but well done to Andy all the same for having having a fantastic season - Indian Wells & Miami Masters series events.
Andy Murray ends the season on a 23 game win streak including 5 straight titles, thoroughly deserves to end the year as the no 1 player in the world for the 1st time in his Career.
Great year for Andy.
Shout out to Novak though who became only the third man in history to hold all 4 grand slams.
Which is all Novak really needed to achieve if we are being honest, if offered the French Open Title but lose the no 1 ranking at the start of the season he would have bitten your hand off for it.
Djokovic beats Murray in Doha final in a tough 3 setter.
Djokovic out of the Australian Open in the 2nd Round, a stunning upset by Dennis Istomin in 5 sets.
Draw has opened up for him meaning he is a chance of making the Final.
Dan Evans into the last 16

That Marks & Spencer kit is clearly lucky for him!
Annoying for the Aussies as we have no one in the last 16 due to that result.
Annoying the Aussies is just a bonus

But yeah, something of a shock result. Mind you, not as shocking as Evans beating Cilic in the previous round. Can't see him getting past Tsonga though.
Evans actually played really well in the lead up Tournament in Sydney. Tsonga will likely be a bridge too far though I agree.