*User has been banned for being right too many times and knowing more about soccer ball than the bri'ish.
Sure but how many times have we seen the same exact sort of disintegration happen throughput the years?
During the post Invincibles era you could set your watch to us losing control, whether due to players doing a madness or an overzealous referee.
When was the last time we showed some mental fortitude to grind out a result from a losing position?
Fine, but this wasn't that. This was us playing with 10 men, against a team that beat Man City twice in the league.
So I take very little from this game, other than Holding got done by a cheating, snivelling cretin.
I still maintain that Arteta was very tactically naive by not going with 5 at the back especially with no Tierney, Partey or established top class forward.
Spurs under the Conte with Son and Kane are brilliant at turning over teams and good ones too. The season has shown though that they struggle against teams who defend in depth. Given the stakes I feel this rigid inflexibility from Arteta was just bloody annoying.
Although I have reservations about the Conte as a long term solution due to his temperament you have to say he's done a great job improving the Scum in a short period of time and on a limited budget. I came away on Thursday night feeling he's definitely preferable to Arteta. And don't even get me going on how we stuck with a past it Wanger when Klopp dropped out of the scrum. Even Eddie Howe is working relative miracles at Newcastle.
My jury remains out on Arteta. His ability to turn into a great manager will require him to learn a lot as well as more major backing from the Kroenkes this Summer. Having said that, there are elements in his body of work so far that have gone well and 3 games in most of us would've taken 5 th place as an acceptable finish after that start.
Still find the lack of new arrivals in January while Scum got a few bargains unforgivable and it's come home to roost in the 4 defeats in the last 8.
Tomiyasu did well against Son in the reverse fixture and it was baffling that he wasn't deployed on the right from the start. Holding and Cedric vs Son? Poor match up that cost us heavily.
If we had played Tomi at RB, I guarantee Son would have moved to the RW.
Yeah and we all know that when a player starts in one position he has to stay there the rest of match
its true u dont see it happen often but, id have preferred our absolute best defender who plays on the wings, to mark their best goal scorer who also happens to play on the wings.
Big oof


"If"
"Should"
Sounds to me like I was saying that it was possible for us to see this game out not that it was a sure fire bet that we would.
I'm more ciriricising the part where u say Arteta is building a siege mentality lmaooooo he's fucking shit and not building anything of note. He's just out there making up numbers and exisiting. Y'all need to drop this notion that there's a culture, there's not. This doods a derp lmaooooo
Just imagine where we'd be if Arteta hadn't built up such a strong siege mentality, after three seasons and 200m on all these mentally tough players.
We're lucky to have such an inspirational manager who is the envy of all our rivals.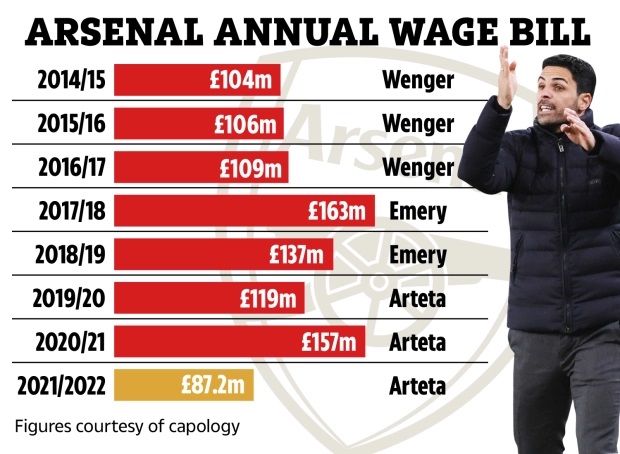 Glad ur saving all of that billionaires money my dood, i just wanna see good football lmaooooo











That looks like absolute horseshit to me. Figures way too low.
"CHAMPIONS OF WAGE REDUCTION, YOU'LL NEVER SING THAT"
I mean im going out on a massive limb here, but i think id be willing to sacrifice 25m or so out of Kroenkes billions if it meant we were gonna score about 50 goals more in a season, but thats just me derppppp









Ah so that's what Artetasexuals were refering to when they said that we have made progress.



We've lost Ozil
Auba and Ozil
I just don't think you understand
Three hundred fifty grand
Back in Arteta's bank
We've lost Auba and Ozil