Ibra with another!!! 2-0 fucking pinch me
2-1 after Kessie is fouled, it shouldve been 3-0 but ibra started his run for his third too early. fucks sake
Should have been 3-0? Ibra should have been sent off for an elbow mate. When it was 1-0

.
If that was a sending off, then bakayoko should've been off before he already was. But yea, stupid from Ibra.
Who put the big lipstick mark on his cheek?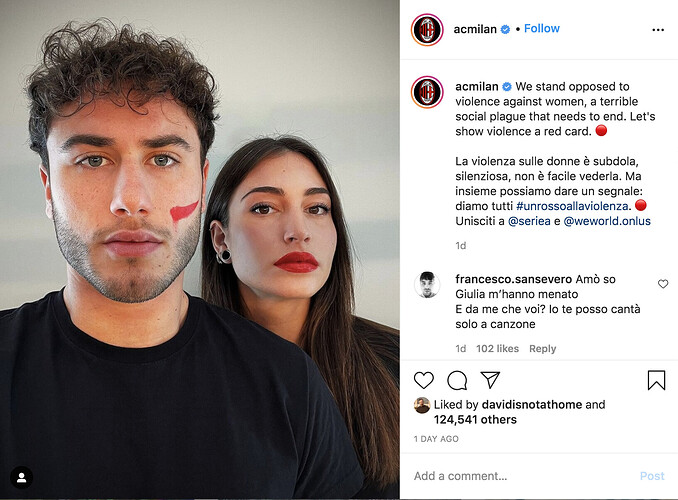 It's for this
Ibra's fucked his hamstring that could mess us up if it's a bad one. Colombo in for him.
Fair play, sadly it looks like it's been drawn on rather thank kissed on, at least with the bloke in this photo
3-1!!! Jens Petter Hauge, the young man who embarrassed Milan for Bodo/Glimt, they brought in and he's just scored a class goal. What a day
Would be so happy to see Milan deny Juve their tenth title in a row. A little bit because fuck Juve, a little bit because it would make @Gio happy but mainly because I dont want whatever shit slogan involving 10 they have come up with to see the light of day.
Id accept even lazio doing it. As long as it's not inter because then they surpass us on scudetti.
Know exactly what you mean about the 10 thing though, now they're all Americanised and tacky as fuck.
I remember them putting "30 sul campo"(30 won on the pitch) on their shirts in the early 2010s because of their disputed scudetti during calciopoli, so fucking childish

What have they come up with?
Hopefully we never find out.
Don't know yet but as @shamrockgooner says it'll be some absolute trash.
They used to be such a prestigious club but they've just become a really shit brand now. Sure they win serie A all the time but that's all they do, it's not even an achievement for them anymore especially with their wage Bill being so much bigger than anyone else's. At least Bayern have the decency to play some really beautiful football and compete in Europe.
I hope their finals curse continues.
I would be glad for Gio but to see Gazidis win Serie A would be grating
Also, if they could just implode or something that'd be cool. Obviously Buffon and Ches survive though.
Juventus winning it 10 times would mean absolutely nothing to me. However could you imagine the articles on "How Gazidis masterminded Milan's return to the top". Fuck that completely.
If they get written (probably by the athlethic) I can easily just not read them.
It'll be in that pink newspaper James Richardson always used to read on a Saturday morning