First post I've seen in this thread. Made me chuckle, lol.


Absolutely fantastic mate, polls are always better when made public.
New Poll. I do know how to do it but I can't just wipe out 32 votes like that.

I just wanted to vote for Sancho with chest
Changing my name to this if I'm right in 2-3 years time
Fingers crossed you aren't right on this one.
Again??? Now you're reaching BigWeng's stubborn levels

Yes but he'll never match him for dirt pounding
This can be easily avoided by subscribing to my 'Trion Polling Toolkit'

Only $4.99/month. Save 35% by choosing the annual plan.
Whoever voted for Sancho needs to be detained. That cameo again was scandalous.
Wtf? Votes aren't visible to me(I probably didn't vote?).


Is it true @SRCJJ, did you vote for Sancho?

You knew who the culprit was, don't act coy haha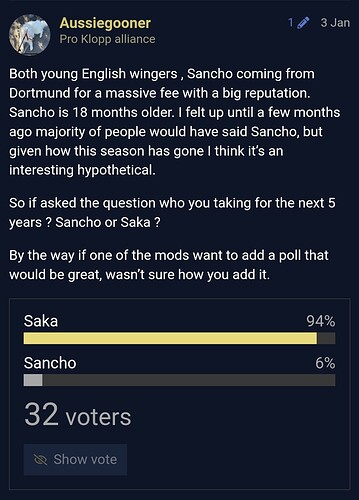 I thought
@SRCJJ
could be one but I remember a post of his finally criticising Sancho so I thought he finally changed stance.
Why is it 6% on my end?

SJJRC is built different.
Which makes it especially odd that I feel like this is what you've been doing for like a year now

In fairness to him I feel like he's way more on point with his Saka is fraud agenda than he is with his Sancho is a god agenda.
Saka been legit dog shit since that City goal.