Yes. But a lot has to go right for that to happen.
The groups for the RWC have been confirmed.
England with the toughest group imo, I'm pretty confident we can beat the Aussies and top our group.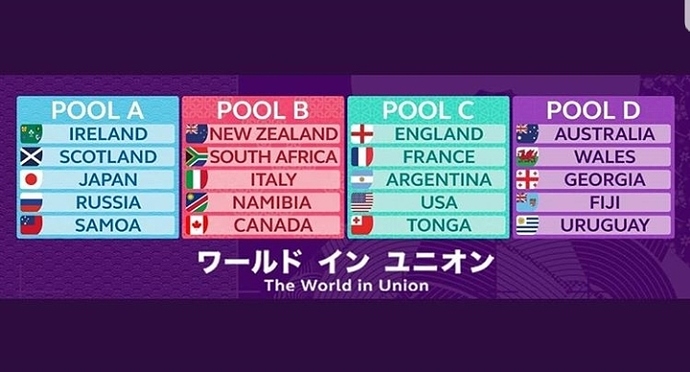 9 wins in a row with wins against Australia and South Africa., well happy!
France and Argentina with us in the group is a nightmare tbh

you and Argentina should qualify ahead of France
England will definitely have a tough time of it but I think they'll qualify.
I think Scotland might face a bit of a tough time because Japan can turn it on when they wh t to plus they'll have the home advantage, Samoa are definitely no pushover and easily the best out of the small island Pacific sides.
Argentina are an impressive team but should edge them tbh.
Scotland look pretty impressive too, but they need to find consistency. Probably the best team they've had since I can remember
HERE WE HERE WE HERE WE FUCKING GO! @Electrifying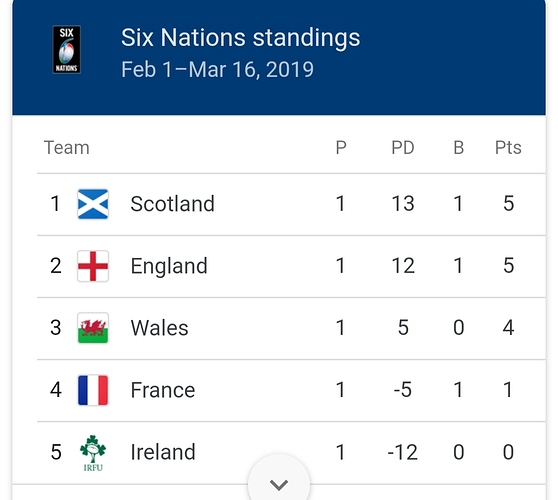 Could care less about this shite.
Trying to get work done in the library and some menace to society shouts 'forward!!!' out of nowhere, made me shite myself.
Only time I care for rugby is this haha would be unreeeeeeeal to win it our last game is England (A)

Surprised Ireland were beaten that convincingly and its not like the fucking French to put up a bit of a fight against us either but I think that's more to do with us being shocking in the first half.
England were fucking on it from the kick off yesterday. Jones proved he's still very tactically astute after a few dodgy displays in the last 18 months. Big wake up call for Ireland though. Target very much on our backs in 2019.
Sounds weird but I think that defeat will be of more use to Ireland come the world cup as opposed to crushing the six nations.
Great win for us though, I can't even remember the last time we won in Dublin. Nevermind so convincingly!
Always seems a bit secondary in world cup year the six nations. Nature of the wins for Wales and England will be pleasing. French rugby though is going so far backwards. Really suffered from to many imports and lost their own unique style of play now.
That was an astonishing first half from England yesterday and although I sort of "get" Jonny May being awarded MOTM for me Farrell's vision, passing and kicking that was the cornerstone of England's game today. Seeing Bastareaud being parked on his backside by a fantastic hit from Courtney Lawes was brilliant!
Scotland disappointed, when I looked at their starting line up positions 9 through to 15 were at full strength and I fully expected Ireland to be troubled. Even when Hogg had to leave the field, being replaced by Kinghorn shouldn't have been an issue (after scoring 3 tries in the previous game, and playing regularly at 15 for his club). But, again Scotland failed to work as a unit.
Gatland fielding a "2nd" tier line up away to italy had the markings of a banana skin written all over it, but it was a workmanlike performance from us that got the job done.
Wales v England in two weeks should be a hugely entertaining clash, I think whilst England look impressive right now they look suspisciously similar to Martin Johnsons team of 2003.
Whatever happens the 6 nations proving to still be a massively exciting competition and I cannot wait for Wales v England at the Millenium Stadium!!
Great day for England yesterday over France. Sad day though for the game when the french rugby side has become this poor a team. France use to stand for something exciting and stylish in world rugby but a bit like Wenger and his Highbury years it seems lost forever.
Think the biggest impact on this has been the rise of importance on club rugby and constant importing of foreign players and thus stopping the growth of its own talent.
Been getting steadily worse for a few years now it be very hard to switch this round now as the clubs hold the power.
One hell of a game between Wales and England today. Defence was massive on both sides. England brilliant of the line in the first half and rightly went in with the lead. Wales fought their way back manfully in the second and imposed their own game and dominated the aggression in the second.
Forced England into more errors and kept their composure for a deserved win.
Yet again at the end though the respect shown by both sides and honesty in interviews leaves you wondering why cant football emulate this aspect of sportsmanship. Total respect to both sides for a great 80 minutes of sport.