Lmao just busted up in public
We need more of that
Almost wished Drogba scoring there to see what would have followed
Even took a game in.
The atmosphere from the ultra's end was incredible

Should have told me, I'd have waved to you from the opposite stand.

Textbook last-man, professional foul
TL;DR
How to win penalties
Do:
One on one convo



Hugs


Create an intimate, safe, loving environment


Passionate speech

Don't:
Take ages making notes

Write notes in the middle of the team huddle

Put pressure on players by putting them on the spot in team huddle


Be a Tuchel

I've got a good tactic too.
Azpilicueta, kick your penalty 3 inches left and don't hit the post. Then you win at penalties.
lol that stuff is great but also what if the goalkeeper just guesses really well on that particular day?
Penalties are one of the least tactical things at this level of football tbh.
"the best thing about not having to prove anything you claim as causality is that you can say whatever the fuck you want"
- Muttley from wacky races (probably)
It's not a funny one like those above, but I know I'm not the only one on here who will never forget this fella
Seeing a lot of OTD (on this day) tweets that are pissing me off. May 17th is a shit day.
I've seen it so you must too. Those are the rules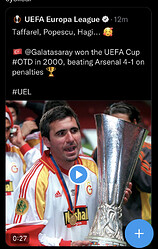 This is the last thing any of us needed to see today after last night you bastard
Peter Drury is the best commentator of the last 15-20 years in my eyes. He's my favourite alongside Barry Davies
Both so classy
Anyone following what's happening with Gueye?