The top goalscorer doing what he does best - scoring important goals and winning games for us.
Thought he bossed it today. Showed today there's a lot more to his game than just being a poacher imo
Game-winner in shit conditions, first game of the season against a team that were up for it.
This is exactly what we pay big money for a forward for.
This guy should be captain, head never goes down.
He's our main striker for a reason, led the line like a boss even when not given the best service.
He's THE guy around here no question.
Auba doing Auba things, usually good for a goal so if you can defend properly it'll be enough.
What a finish. Not an easy chance to convert at all. Made it look so simple !
Thought he was quiet for most of the game, and then pops up with the winner.

Many more to follow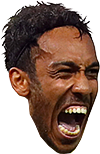 Auba really had the aura of a man carrying the team today whilst leading the line. The kind of aura we used to get with Henry when we needed him to win a game for us. He's such a certified talisman for us now.
Said it before, he should be one of our captains.
That 5 captains bullshit needs killed with fire.
Man of the match? Pah, Man didn't even didn't even get any bonus points on FPL

As others have said, i'd have given it to AMN.
I'd give it to Dani for his awkward celebration
Beautiful goal. Decider of so many single goal margins.
Shame he's already 30

Great goal from Auba today…shows exactly why those of us who said keep him this summer rather than selling to raise money were absolutely right. We have a world class striker in Auba and now have a great forward with with Auba, Laca and Pepe…
Thing with Aubas age is that he hasnt and doesnt lose summers to international tournaments as Gabon are not very good.
Buys him a good pre season each year. Important factor that for me going forward.