After 2 years Favre went back to Nice?
Signing Xhaka and Mustafi was previously our worst transfer business but for around the same money, we managed to top that with the signing of Pepe.
From the club's decision to buy him, to Arteta not getting at least a few decent performances out of him, to the the player himself, it was poor all round from everyone involved.
The only winner's in this fiasco were Pepe's agent and Lille, who are laughing all the way to the bank.
Apparently he never mentioned Pepe and was referring to his team as a whole.
GFFN with an agenda as per
Clueless Arsenal fans still insult the guy. Never heard a bad word about him sulking, moaning or any complaints about his commitment for this club
On the contrary. The only thing I remember was Arteta saying that Pepe wanted to play a match either right after coming back from AFCON or the birth of his child. He never struck me as a guy who was going to kick up a fuss. Just the wrong player at the wrong time.
I don't have a particular axe to grind with Pepe as a person although the signing at that price and on that deal stinks to high heaven.
But the more we find out the more it carries a whiff of potential corruption and back handers between Raul and Pepes agent who works for Pepe. So I do wonder if Pepe is completely innocent in all this sometimes. Alas no hard evidence so this is circumstantial for now.
And unlike a certain ex forward of ours I can't criticise his attitude while he was here.
Won a penalty and scored it today against Lille.
And his price just went up 250K.
Good for Pepe! Hope he re-finds his feet.
Did he celebrate?

Regrettably no. He did that very silly thing where a footballer puts their hands up like they're in an old timey robbery.
I thought I'd resurrect this thread from the dead.
7 games…1 solitary goal from the penalty spot for ol'Nico.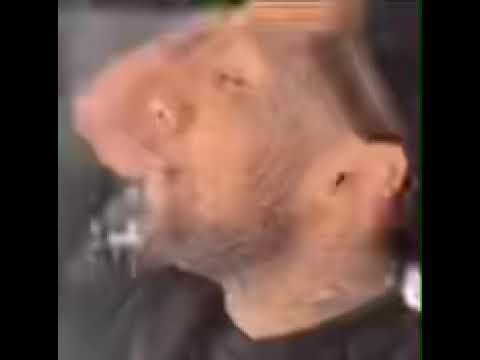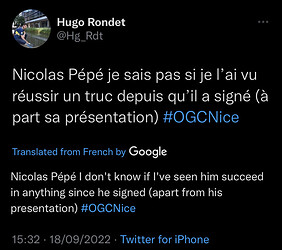 Yeah that valid, I think Nice doesn't appear to the best loan spot, they def regressed from last season. There are bigger issues with their 11, coaching, backline and midfield are shitty
Not to mention of course that Pepe is a steaming pile of shit.
As usual, it is always 10 other things but not Pepe
I didn't exclude pepe from the situation lol I just added additional context. Most people aren't tracking Nice so why would they know about other issues?
If he was stinking it up in a good side you may have a point. Nice had a man sent off the first min so not sure why people are yammering now
"but when Bruno was having a bad game,!"
Wtf is he on about? talking in third person like he is Zlatan or in that category ?!. Fucking disgusting rat boy. Cant wait for their shit team to implode at this rat cunt moaning and complaining to his teammates.