3 QBs injured. Rough for Kyle
It is. But so much talk about the 49ers defense and they are falling apart in that side. 4 rushing TDs now. Hurts activated!
Couldn't happen to a nicer guy. F Kyle.

Stay classy San Fran. Trent Williams should be ejected.
1 more! Fly Eagle Fly

We weren't at our best, but we did it. Need to bring our A game in 2 weeks!
I would've loved to see this play out with Purdy. But things just go this way sometimes. We got to him and he got injured. We got to Johnson and he got injured. Then their defence just collapsed. I thought they'd at least keep it close even without a QB because of their defence. But they just couldn't help themselves and racked up loads of penalties. I'll take it. A win is a win.
49ers can blame their fans. You don't fuck with Rocky statue.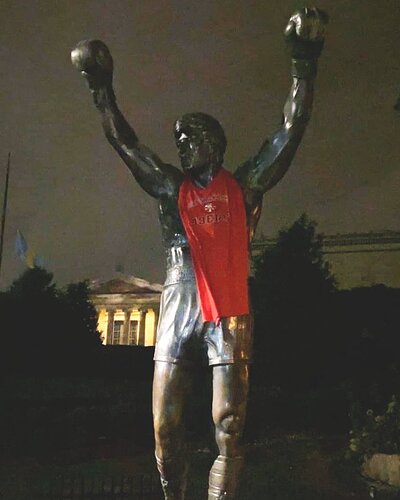 I think you beat the chiefs and probably the Bengals.
I don't care much for any of the remaining teams. But I find it strange that KC's challenge was successful.
Contradicts forward progress when you consider the player pulled the ball back before he was down. Like when a player runs backwards and they mark it there. It's not like he was breaking into the EZ.
Anyway. Fuck KC and their inbred Missouri fanbase.
Although I like Mahomes. His dad pitched for the Mets.
KC getting a favourable call? Well I never…
WOW Bengals Bungle it
Silly late hit ffs lol
Come on pull a fucking Miami
Reid x Mahomes era is crazy amazing, they have to win to solidify their legacy
Amazing how many calls they get from the refs yeah.
Eagles have to save us. Chiefs shouldn't even have been the 1 seed.
What calls? The MVS first down call was legit. The ref analyst explained why.
Mahomes on a bum ankle with no healthy WRs.
#58 with an unbelievable mistake.
If you're rooting for Philly, you've never been around Eagles fans.
LOL I think it'll be a Eagles blowout win tbh
Chief offense lack explosiveness and they're banged up
I'm neutral lol Just want a great game
Eagles should be favored. Two weeks to heal though for KC.
Eagles secondary is beatable. But their front 7 has been quite good all year.
I have and it makes me feel ill to root for the eagles but mahomes and the chiefs are the worst.
Block in the back on punt return followed by holding both not called. MVS one I disagree too.
Calling every piece of shit they could against the bengals. The push at the end - stupid but you don't flag that in that moment.
Chiefs get every possible call all season long not just tonight, hope they get stuffed 34-10.
And Tony Romo making himself absolutely unbearable as well, thank god he's not covering the SB.
Garbage. Mahomes was literally a few feet out of bounds. That gets called every time. Game was called pretty evenly. The block in the back was called on a KC return. One call that the ref analyst disagreed with was a pass interference on MVS (short yardage).
Not really a Chiefs fan, but a gutty performance from Mahomes with a short handed team.
Bengals blew a golden chance.
Romo isn't bad as a color analyst. Ever been subjected to Joe Buck and Troy Aikman? Those guys are the worst.