Should just take the Newcastle job (if they even want him). He'll be sacked before Pep leaves City anyway.
Just pure fabrication from every angle that story.
Man carries out the duties of his job. More on this breaking news story after these messages
I expect they will just ask Bruce about the game against spurs and how they will set up defensively against Kane and Son, rather than any embarrassing questions about if he will still be the manager when the new owners have taken over.
The media are nice like that.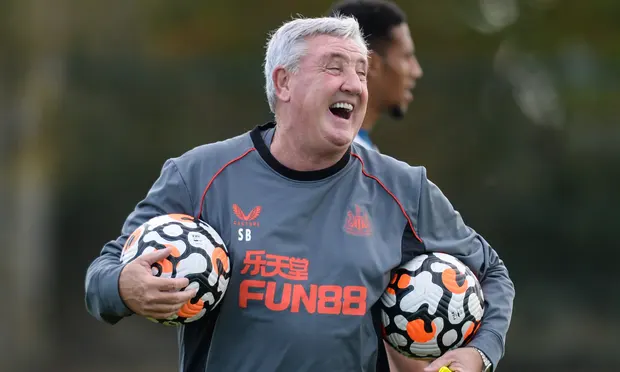 look at how happy he is

Come on Brucey, go out with a bang.
6-0 win against Tottenham
Problem is, although they have new owners, they still have the same shit players.
Which reminds me, I heard Jeff Hendrick chatting on Wednesday night about how he was looking forward to getting back to Newcastle and working under the new owners. Mate, you're Jeff Hendrick, you're shit, you're going to be one of the first out the door. He struggles to get a game most weeks as it is.
I wonder if Willock goes on to be the equivalent of say, Gareth Barry when he went to City.
Becomes a stalwart in a team that improves year by year, and is an important component of their first trophy success.Barry was a very decent player tbf and was a great servant to City.
Who knew Willock would be moving up the ladder from Arsenal when he left for Newcastle…he'll be absolutely delighted with his decision now.
I am hoping they would see the new owners as a threat and would try to impress in their first outing.
Hope Spurs continue the misery for the Toon.
Nah he'll just be moved on to another club in the next 24 months when Newcastle overturn its whole playing group in the next 2-3 years.
The crazy part is that MbS has enough cash to just buy the whole squad out of their deals next summer and start over. They don't even need to find buying clubs. Just pay them all to leave.
True.
The longer the delay in the inevitable success of the Barcodes, the better.
If spurs win they go fifth so I only want a Newcastle win.
Toon are in the shit this season, and aren't much of a threat to anyone… imagine actually wanting Spurs to beat them today

Just know we are going to see some of their fans look dickheads today for the television.
Tool army.
It's really nothing new for them though. One of their guys punched a horse. They're already pros at looking like dickheads.