Worrying thing for Liverpool is the Saudis have another 20 or so days left of their transfer window
I think it's more likely that they wait until next year, so they can line up his replacement.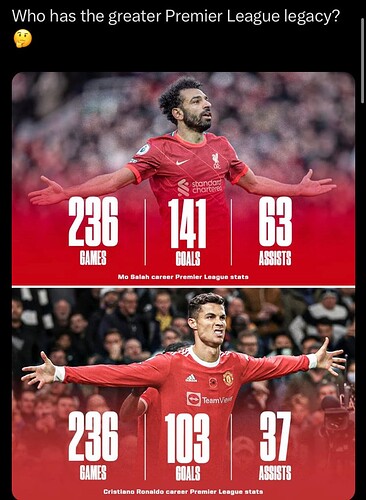 Who was the better player?
Salah for Liverpool
Ronaldo for Man United
The poll back in 2019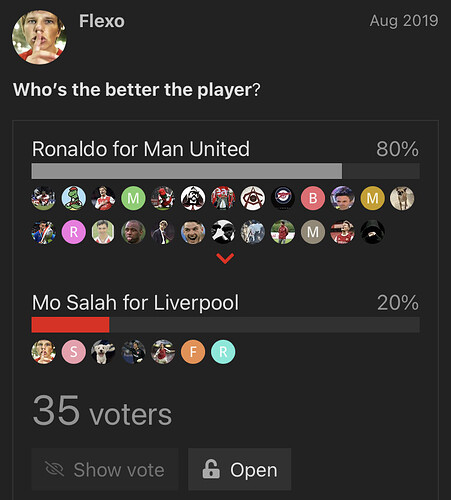 I'd edge Ronaldo but it is pretty close. Salah has been a phenom.
I'd rate him as the best PL player.
His stats are unbelievable and so is his consistency, especially as he isn''t at a massive spending club.
Caveat is Ronaldo wasn't at his peak at United during this time but era for era it's Salah I think
Is that even fair comparison given Ronaldo started at United as a raw 18 year old in a 4-4-2 system where the wide players simply didn't rack up that many goals? (or stats in general)
It's not but it's as fair as it's gonna get for anyone pre peak Ronaldo bar Messi lol
C. Ron won a Balon D'or. It could be argued that Salah has been the best player in the world for at least a, season though.
Its a bit unfair because Ronaldo came to United very young, was there for six seasons, but only really a top player for three of them. Salah went to Liverpool just on the cusp of his prime.
On the other hand, I think Salah's first season at Liverpool was just as good as Ronaldo's amazing 07-08 season but the latter was on the best side in the world and so won the Balon d'Or while Salah was on a team that was still being built.