Seriously? If true it looks like he wanted to have a jab at Guardiola on the way out.
It's obviously fake man

This has to be trolling

Cmon Arty, let's get Partey. Ahh ahhh ahhhhhh yeahhhhh.
I clearly missed the joke.
Happens to us all mate

In fact, I really did worry that it was happening to me as I read your posts haha
When I read a BBC article about the impact of Fernandes, it showed the form table of PL clubs since he joined (with Arteta joining us a bit earlier):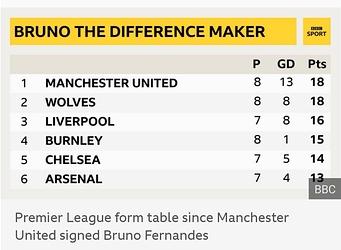 No doubt we would have wanted Arsenal to win a few more games pre-covid-19, but overall in this period we are in the top 6 with our form, and a game less. We were surely in or around the bottom 6 before January?
My main view is that, on top of the steady improvements in our results, looking at how Man Utd are doing can indicate:
Having some more patience with the manager following the first few months of taking over a team
Signing one or two players who are the right fit, could possibly transform our team.
This kind of sucks…because they only find form again after buying 50 million player after 50 million player. Arsenal don't have those resources.
Literally just came here to post this. Really enjoyable watch and definitely puts you on @Midfield_Maestro levels of confidence in the guy.
I'm slowly starting to really buy into the idea of Arteta as manager. I'm going to give him the benefit of the doubt and stop with the yo-yo opinion on the guy. It's easy to get sucked into knee jerk reactions given how shit we've been for so long.
Yup, very enjoyable video.
It's interesting that both Man U and us have got managers that are inexperienced at this level and who are having to rely on the players they had from previous managers, and younger players, rather than massive spending.
Man U have always spent big and Fernandez wasn't cheap but Solksjaer does seem to have them playing as a team which is something Mourinho couldn't do.
Arteta is in a lot more difficult position because he has no top class players at the club. apart from Aubameyang, and has to rely on what little talent he as at his disposal as well as bringing in younger players.
WHAT?! United have bought Wan-Bissaka, Maguire and Fernandes for 180 million!! Since he has been there.
@Bl1nk 's made me believe even more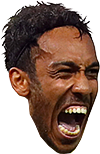 That's fair enough, I thought they came before he signed a full time contract.
But he seems to have the midfield and attack playing a lot better than previous managers and Rashford, Pogba and Martial are all playing a lot better.
It's true they have been able to outspend most of their rivals and Solskjaer does have a lot more talent at his disposal but he is the first manager since Ferguson who has them playing as a team rather than a bunch of very expensive individuals when Mourinho and LVG were there.
Super video, that does inspire more confidence.
I mean if OGS can get as much time as he's had at United then surely Arteta deserves the same.
Maybe focusing on the inclusion of players like Saka, Nketiah, Willock and AMN ahead of other, older more experienced player will play into getting a stronger sense of chemistry, cohesion, culture and club virtues on and off the pitch.
Glad to see us putting a bit of a run together, and the lineups look a bit better now.
Slowly starting to get better performances out of Pepe and Ceballos which is encouraging.
Still not our guy.
When you see a shrewd tactician like Ancelotti on the sidelines at Everton, masterfully knowing what to do to kill a game, there's always a thought of "what if"
I love Uncle Carlo. The way he nonchalantly said 'who?' when asked about that random guy that left Everton the other day