I'll take it. Fuck seeing the barcodes being happy.


These guys haven't been relevant since the GOAL! movie came out.
Man Utd players out there bossing it for their national teams, meanwhile they can't do that at their club.
These guys went ahead and assembled a super squad to barely finish 6th last season, go another season trophyless, looking like it'd be more of the same this season, closing in on 6 years without silverware.
"Biggest club in England"… yikes…
Too early for that judgement. 3 points off 4th with a game in hand.
In every competition. Getting rid of the problem player with a January window opening. Way to early for these predictions and they are better than last season.
ETH is there for a few months only, give him the time we gave Arteta and they will win the PL.

Virus Ronaldo is gone. Good times for them ahead.
I reckon it's very unlikely that they make Top 4 this season with Newcastle, Spurs and a recovering Liverpool.
I think they'll fight for the EL spots with Chelsea.
My point is mainly that this WC highlights again they have a much better squad than people think and have proper wasted it on Ole and Ralf. EtH is a good coach but I don't see him taking advantage of his current resources, looks like he wants his own guys to come in.
Man Utd should have started looking for Ole's successor as soon as he lost that EL final against Villarreal. Conte was available that summer. I think Antonio could have gotten the best out of that squad for 2-3 years and then they could have proceeded with a rebuild.
Fuck me mate, the love in is getting a bit nauseating. I know you love him for his work at Ajax, but he now manages football's evil empire, please adjust your behaviour accordingly.
I don't deny United are cunts. They are. Ever since Fergie was winning for them and we were in the mud years, I had a hard time dealing with United supporting friends in Holland. So fuck them indeed
@Forever is in a win-win situation:
Man Utd does well under EtH: it's all down to EtH
Man Utd continues underachieving: it's all Man Utd's fault

No if they don't do well it can be EtH's fault too. But it's far too early to assess.
You would(and rightly so) never admit that.
Every opportunity to shit on Man Utd you should take it.
I still make fun of Man Utd fans for Mourinho. Same for the Scum.


should return to dortmund
Looks like coded language for Sancho has gotten fat over the mid-season break and is now overweight
A move widely praised when Arsenal did this for Viv recently. Not every player can just play themselves back into form so I like this move from Ten Hag.
Needless to say, and I've nothing against Sancho personally here, but I hope it makes no difference.
Isn't he already having time off.
Dunno, I feel Sancho is a bit doomed under EtH.
Had a good preseason but once the season was underway it just hasn't worked out for him.
I don't think it'll be long before his replacement is signed and he is eventually surplus to requirements.
If they do sign Gakpo then that leaves him the odd man out with Rashford and Antony being favourites of Erik, not to mention Garnacho who is getting nore and more chances now.
I'd love to see Sancho under Arteta
Isn't the point of these warmup games to get fit?
Match fitness would be the priority. Players are expected to keep their base fitness to a certain level across the 3 week pause. Sancho may have over indulged.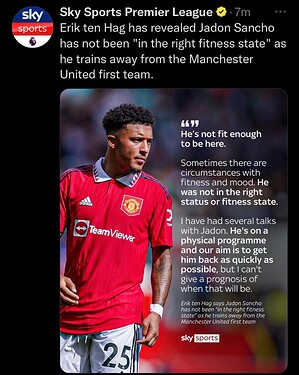 Sancho-claus, can't blame him, it is nearly Christmas time.