FFS don't need a competent owner snapping them up
They're going to be set free
How many gulf states are left to buy teams?
They'll just create another "investment fund", and pretend it isn't state owned.
Bahrain and Kuwait haven't got involved yet
They're not going to find it that easy to sell the club because, although Man U are one of the most profitable clubs in Europe, they're in a real mess and any potential buyer is going to have to pay more than 5 billion to buy the club as well as investing in new players.
When smaller clubs like Man City and Newcastle were bought, the expectation level from supporters was a lot lower and they were just grateful for any owner who would spend money but Man U will expect a lot more straight away.
With more competition in the PL and the massive level of investment needed to get them back to the top, investors might think that Man U aren't as attractive as they used to be.
Bahrain ain't got no money bruv. Bahrainis are humble folk.
Man Utd fans crying begging for Arab owners instead.



What's wrong with Sir Jim?
Only worth a measley 20bn
If Arabs got ahold of Man Utd we would have been genuinely fucked.
They would be throwing money even worse than before. It would be sports washing at its finest.
SJR will probably be a more sensible owner.
Ronaldo fucked off and glazers set to sell and United shares climbed 15% yesterday and 19% today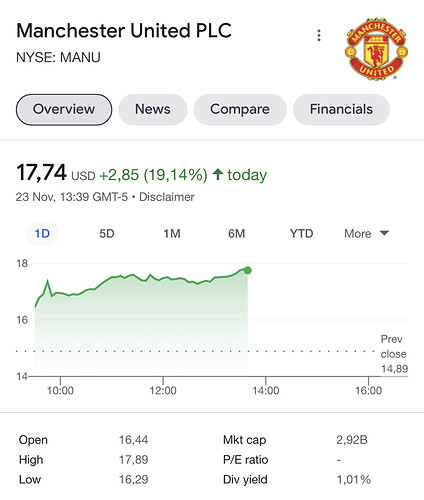 Master move Ronaldo dumbass


Good luck finding a CL club playing you SIIIIIUUUUUU



And some people they'll struggle for owners. Jfc really.
Ronnie fanboys living same delusion as their idol




They're the biggest club in England and have an unreal reach, would never struggle to find owners.
Yeah I'm sure Ronaldo was trying to specifically affect their share price with his antics lol
That's why. I don't think he did think much at all beyond the limited ego-thinking

Wouldn't surprise me if he bought loads of shares before doing the interview

Sounds like a conflict of interest but what do I know
Can see them ditching Newcastle somehow tbh