What's the transfer budgets like in that version?
Leaving spaces atm, got plenty of talent coming through but they qualify as <21 anyway.
So only Foden in that squad is HG at club, then Ward-Prowse, Stones, Sterling HG in nation.
I'm still on fm21,but created the above squad with a net spend of £230m which is pretty good I think. Still got £250m budget leftover

Haha I was curious, I still play fm15 from time to time and I thought the budgets were out of control already. Really easy to get rich with consistent CL placings.
So our recent struggles has convinced me to boot up the old FM and work my magic on the current Arsenal team. And work my magic I am not. Lacazette is just as bad on FM as he is in real life. Nketiah is showing signs of potential so I may actually sign him to a new deal
He's sooo bad defender Gabriel has outscored him loool
I just played Martinell upfront as he was better then laca and Eddie.
Just had 6th followed by 5th finishes in my first 2 seasons as West Brom manager.
Thought I was going to get champions league with 8 games to go in the season just gone, but 2 losses and 4 draws in the last 8 cost me

Finished above Man City though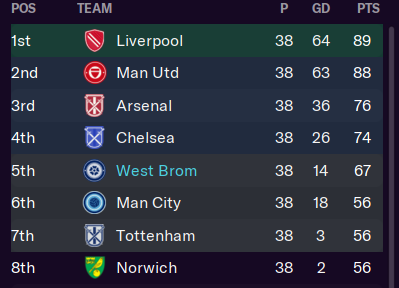 Norwich are very good in FM it seems, only behind City on GD!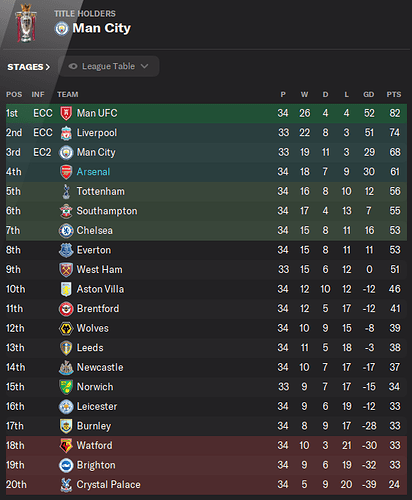 Odds on me bottling this?
Got exactly the same team as now, bar Pepe whos gone to Newcastle for 30m and Isco who I signed on loan. Tried for the life of me to get a striker in January but wasnt happening lol. Managed to turn Lacazette into a 20 goal a season machine AND convinced him to pay cut down to 100k a week