Better than being called Zebra


. Still a dick move on Utds part though.
Starting a new save with AC Milan @Gio. Gonna try and keep the likes of Donnarumma though. Any recommendations on what positions need strengthening etc?
Right wing for sure, central midfield back up, right back back up. Probably a new striker as vice Ibra etc.
They beat Jamaica in the final that's even wilder
That was my main point tbf

My player got called up to play in a testimonial match for a Blackburn player. Breaks his leg and out for 5 months

Interested in getting back into FM. Last one I played was 19. Dont fancy the computer or mobile versions so gonna get a switch a play it on that at some point.
That's a lot of money for a Football Manager machine, there other games you wanna play on Switch too?
How very dare you.
I have had playstation since the PS1

For some reason I thought you had one was going to suggest just getting it on game pass.
Nah.
Would be worth it tho as would get a lot of use out of it if I done it
Would be a shame if you didn't get back into Football Manager though after playing it a bit though haha
I've been on the verge of getting one for ages tbh, just don't feel there are quite enough games I wanna play on it. Plus that recent £20 reduction in a price if anything made me want to be one even less lol.
Guess I'm also reluctant cos I already have a PS4 and Xbox One S, so it doesn't feel wise to drop the best part of 300 quid on another bit of tech from that generation.
I have a PS4 but its sorely used to steam BT Sport now when I have the month passes haha.
Bored of console gaming tbh. Don't think I'll buy another game till the new GTA comes out for the PS6 in 2028.
I wouldn't be buying the main one haha fuck paying that just to play FM.
I was thinking more the lite version. £186 isn't as bad if I end up doing it

Taken until the 5th season in charge (2024/25), but I've just won the prem with Middlesbrough.
Typical Arsenal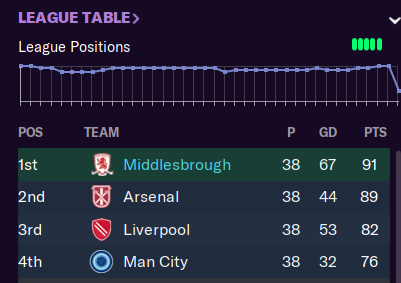 Well done who did you sign.