Too easy once you take Mikel out of the equation

Yeah Arsenal on FM is way too easy. Usually win the PL and/or CL after two seasons.
Sheffield Wednesday. Start with a -12 point deduction
Best thing to do on FM is take the best four teams out, write down the rest and pick it out of a hat. Never know what your going to get and you learn something about clubs you never had any real interest in, also check the window that prevents transfers in the first window so you have to start with the current team and can't go and buy your go to cheap wonder kids.
FM becomes challenging and a lot of fun that way.
Or do a journeyman save. Load up a bunch of leagues and start unemployed with no badges or experience. Start at a lower league and get to the top
Started a new long term save, took the least successful team in Premier League history in terms of trophies won and going to try and make them a powerhouse of European football. My team?
Brighton and Hove Albion!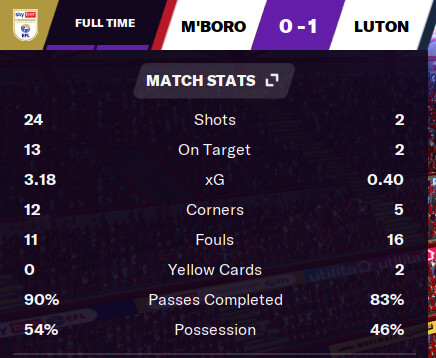 Story of my season so far, xG in the mud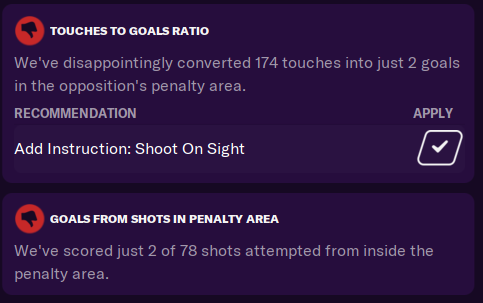 I think I need an upgrade on Akpom

Have u tried changing ur tempo?
General helps with getting more goals on targate
I play with a high tempo, but unfortunately the problem isn't even getting shots on target (getting 47% of shots on target), just not scoring any. Converting just 17% of the shots on target
I need to have a word with Bergkamp, he's responsible for shooting coaching

He just scored his first goal in 16 games.
The defender tried to clear the ball and it bounced off him and went in

I managed Boro recently, and Akpom was sick for me. Played a 442 with him and Assombalonga up front. Had them both as Advanced Forwards I believe
That's actually impressive haha
Even though he's hardly scoring, he is improving a lot stats-wise.
I imagine he'll be a lot better in the second season.
He was my back up for Embolo on my FIFA15 career mode, and I can confirm that he really does come good if you stick with him.
Does anyone have more success with youth intakes than me?
Whenever I take over a Premier league club (and there's been a lot), I get the youth facilities and junior coaching budget upgraded to max, and yet tend to get utter rubbish coming through year in year out.
In the first season at Middlesborough, having not upgraded anything I get a 16 year old in the intake who's already championship standard, weird! Is it more random than anything else?