i had to wait till jan window to off load him for £15mil
I think we'd take that IRL tbh

Were the board disappointed in the finances in that deal too?
Having said that…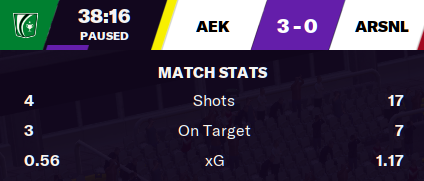 nope but they were disappointed I released Wilshire for £1.5 Mil.
Just need to get rid of Ozil, Laca an luiz in the summer
Wilshere? He's not even an arsenal player?
I managed to get rid of Ozil on a free subsidising £150k wages
no but he is a free player at start of the game an my midfield was on its arse with injurys.
I got Ozil out on loan at Napoli so at least they at paying 70grand of his wages a month an paid a fee of 1.7mil fee to loan him as well.
How have you got ur team set up?
They can't even sim sensible xG. Cool cool cool.
4-1-2-3 Gegenpress. Willian is almost as good as CM as he is on the wing so playing him there. Going to see if I can recall Torreira and Guendouzi from the loans after 28 days and then I would play something like:
Aubameyang
Saka Pepe
Willian Partey
Torreira
Tierney Gabriel Saliba Bellerin
Leno
With Luiz, Xhaka, Lacazette, Ceballos, Guendouzi etc rotating
To be fair their goals were worldies


Love the realism in FM, this is only the 2021-22 season!
For some reason he was deemed surplus to requirements so listed him for £33m

I fucking love FM dudes. Started out unemployed and ended up getting hired by Hull. Won the League 1 Play offs in my first season now sitting pretty in 3rd in the Championship
I was always an absolute bitch and started as Arsenal cos winning the CL with Arsenal filled a gap in my life that the realclife team was never gonna fill

I ended up resigning in a fit of rage hahahah. Prefer playing FM when I have a challenge to work towards.
The Fergie Challenge and the Director of Football challenge are my 2 personal favs. The Fergie Challenge is where you have to sim to the 6th November and take over whoever is 19th in the Premier League at that time and try and replicate or better Ferguson's career at United. The Director of Football challenge is literally just letting your director of football do everything except select the team on the day, so all transfers, sales and staff changes are done by him, pretty cool if you're interested in a challenge.