This is the best football club twitter


amazing
Can you get a patch or whatever to get the club logos and competition names changed on the mobile version?
I did not but FM2018 but i'm considering the purchase of FM2019.
They have a good discount today.
Iwobi playing for a German team? :cech: @Persona
I didn't even sign him either, he was in the squad when I got there XD
Took your advice and got the phone version. Finished 5th first season, and Auba handed a transfer request cos he didn't like playing for an inexperienced manager.
The phone version is defo a lot better than I anticipated it would be
… Any other experts out there.
I'd be grateful if you can let me know if this laptop will handle me "occasionally" editing my travel vlogs on Adobe Premiere Pro CC 2019. At times, I may use it to play Football Manager too but main purpose is to use it for editing on Adobe Premiere.
If you can offer alternative (preferably cheaper then pls do so). Here is the link:
https://store.hp.com/UKStore/Merch/P…yABEgLsGPD_BwE
Thank you.
Started an FM save with Arsenal. Tried all fucking summer window to sell Ozil. In the end he left for Napoli, on deadline day, for free with me paying Napoli 110,000 a week until 2021.
£350k a week what a joke.
Just completed my third season with Arsenal.
| Trophies | |
| --- | --- |
| Premier League | |
| Champions League | |
| Europa League | |
| Top 3 signings | |
| --- | --- |
| Leon Bailey | €114,000,000 (July 2021) |
| Jadon Sancho | €75,000,000 (July 2020) |
| Ruben Diaz | €60,000,000 (July 2019) |
| Top 3 sales | |
| --- | --- |
| PE Aubameyang | €110,000,000 (July 2020) |
| Lucas Torreira | €105,000,000 (July 2021) |
| Bernd Leno | €55,000,000 (July 2020) |
Current Starting XI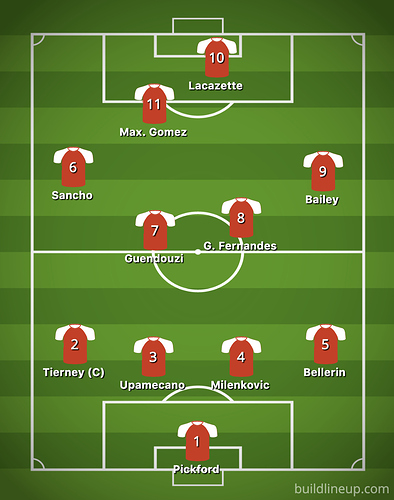 | Substitutes | |
| --- | --- |
| Watson | GK |
| Grimaldo | LB |
| R. Diaz | CB |
| S. Berge | CM |
| K. Coman | RM |
| A. Iwobi | LM |
| W. Geubbels | ST |
So, to sum up
B A L L I N !
Unai WHO?!

why not Bellerin as captain?
Considered it, but he's injured a lot and Tierney has great leadership stats. I actually sent Bellerin on a leadership course (new feature in 2019). But he failed his exams lol.
the game has probably changed a lot since I last played fm 2013 or 14
It has. I skipped FM 2018. So a lot of features are new to me too. Love the new scouting system. I remember having to look up so many players and individually ask for scout reports. Now you have a complete scouting center and you get like 25 player suggestions every 2 weeks or so. Depending on your scouting budget you can set the range of scouting. It's very detailed once you get into it, or you can just hand it all to your Director of Football or Chief Scout.
I stopped playing it because it started to get way to confusing, I preferred the old simpler older versions and one of the best parts about it was getting the facepacks, kits and badges, is that what you do?
Too busy with fashion i bet!