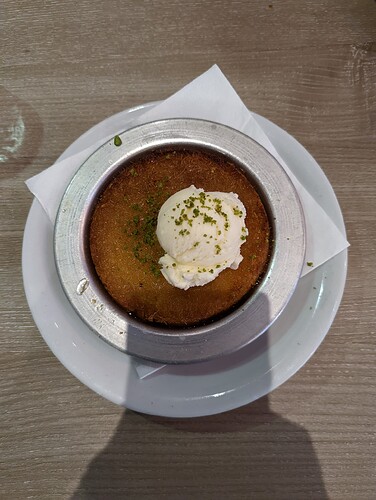 @SRCJJ @Midfield_Maestro @BizzySignal
One of the finest Turkish I've had in Glasgow, topped with the Turkish ice cream, was absolutely lovely.
Was absolutely stuffed from the bread and mixed grill by the time this came but didn't stop me demolishing this
Knafeh is just the best treat.
Farkin yes mate looks delicious

Do you like cardamom? There's a real hipster gelato place in Baltimore that does a cardamom flavor during the summer. It's fucking excellent.
I hate cardamom lol
I always accidentally take a bite of it when it's in biryani and the strong taste gets me.
Ah man I could really do with some now ahah. I just tucked away some Thai sticky rice and lean beef but now I've got knafeh on my radar

Ooh now that sounds nice.
I need some Mongolian beef or black bean beef in me
Just had Knafeh for the first time ever from a local Lebanese place thanks to you guys banging on about it.
That shit SLAPS. Damn, very big fan but fuck me it's rich lol
Also got 4 little baklavas as well. Haven't tackled them yet might have to save them for tomorrow or something, I'm so full.
Ok I had the two baklavas and they were also amazing
Goddamn I love Middle Eastern food
Not necessarily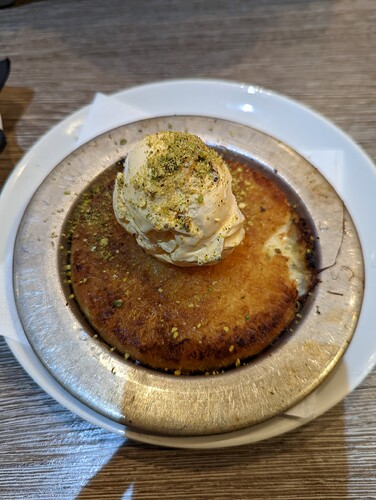 Top quality in Edinburgh this time.
I think this beats out the historic Scottish rival city of Glasgow for my favourite Knafeh.
Don't see the hate against Emi tbh.
Since Martinelli said that Emi drove him to and from training everyday because covid stopped him doing his driving test, I like him again.
proper.
I was stuck in Turkey for a few days last week with too much time on my hands (my shit posting went through the roof), I had some epic künefe like that one there to get me through.
Where.
Hafiz Mustafa? That chain is qualiteeee
o, never been. just a couple of random diners around Istanbul this time. Will check this chain out if I get close to one, google images on that thing is absolute dessert porn

My brother picked me a box of their baklava when he went there, quality stuff indeed.