If Man City miss out on the league title to us, they'll sign Saka.

I wouldn't say that's necessarily true.
Gabriel Magalhaes chose us over Man Utd.
Partey's father said Chelsea were after him too but they were waiting for Arsenal.
Jesus was their first choice striker last summer but the guy made his mind up. In fact, as we know he rejected a couple of big clubs for Arsenal.
Sure, there are cases like Felix and Mudryk where threw the kitchen sink to get them over us but we kinda allowed them to get them.
I think when it comes down to Chelsea, Man City or Man U wanting a player, they can get who they want just through outbidding us, despite what club the player prefers.
But we are a very attractive club for any potential player so we have to take full advantage of the situation while we can, which I'm sure Arteta will, as long as the board backs him financially.
If Rice wants to stay in London and play for us, it will be interesting to see what Man City and especially Chelsea do about it.
They certainly don't want to miss out on signing a top PL player and also don't want to see us strengthen either.
Slight improvement on Gallas, who really can't speak to be a TV personality
Hahahaha the tables have turned!! Now we're the cunts shamelessly tapping up players in the media!!!
ARSENAL DNA ARSENAL DNA - See the light Declan!!
Get FUCKED Chelsea
Yessss my guy Emmanuel knows
*Knock *Knock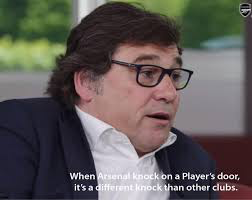 Seems like total BS but I'll try and believe it cos I like the sound of it
Bit like when GC said Tielemans rejected Madrid for Arsenal last summer.

well, that could be true also… just Arsenal did not place any bid on him
not that the player didn't want to come
Why are you speaking about yourself in third person
Seems like a fair price, for Mr Rice. Watch us lowball with a starting bid of 50m + addons in June. Finally signing the guy the last week in August for 85m.
Making fun of something stupid I said last summer.
JakeyBoy knows.
RICE



Can't get excited about this. Just feels like one of the unlimited funds clubs will pick him up.
I think he'll end up at Chelsea. They need to rebuild their midfield and no matter how many leaks come from The Athletic about how his family didn't like how he was treated, it's all baloney. It would be nice to sign him but I think it's unlikely.
There is no guarantee with any transfer but this is about as close as it gets.
Rice is a PL proven player, for a position we need top quality in and he's young enough to still have the potential to get even better with Arteta.
But we all know that whatever we bid, Chelsea will bid more.
Dunno, struggling to get Gusto and Onana/Caicedo at the minute.
I think there is a limit to their spending after all. Especially with European football not being a certainty next season.