So comfortable on the ball.
Left foot right foot watchu want?
His distribution is like the brush stroke of Picasso.
Everyone saying "wahhh, can't have two #1s"… let's see how it plays out.
I agree with Mikel, we need a varied squad to be unpredictable.
Still feel our winger options are not great. Need back up for Saka.
he does look really comfortable zipping the ball about but I'm not a fan of keepers coming out that far and playing that way, keepers should have as little to do with the ball as possible because it always looks like something could go wrong at any point
He was fine.
It's worth remembering just how bad Everton are though. A good game to give him a shot in but I'm not comfortable with him taking up some of the positions he did yesterday against the likes of pool or city.
It was good as far as debut's go, but he never really had much to do. He did however come out for a ball and spilled it (he got the foul, but it was pretty soft). His distribution is good and he gives the impression he is assured in goal.
I am not sure Rammers is under immediate threat - although that could change
Just the single game for Raya but his launched kicks (passes that are +40 yards) already look like an upgrade on Ramsdale's efforts.
Stats for this season so far. Ramsdale is the top figure.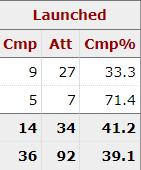 Ramsdale's best match for 'launched kicks' last season had him go 5 for 9 (55.6%).
I don't know if they go into the launched kick category or not but where Raya was super impressive was his ability to confidently hit these medium length balls out to Ben White moving up the sideline, either clipping it over the head of the first line of press or in one case fizzing one on the ground that had a little bend and was just around the corner. I don't have any data on this but my impression is that Ramsdale cannot play these kinds of passes well enough or has lost confidence in his ability to do it. Because I have seen a lot of situations where the press is cutting off the short option, but that kind of medium length ball seems to be on, and instead Ramsdale just launches one way downfield into an area where we have one attacker and three defenders or something else equally hopeless.
Writing is on the wall for Ramsdale.
If Raya holds up as a shot stopper and in set pieces it curtains for Ramsdale
Goalkeepers union

2 games, 0 serious chances faced

Arteta knew what he was doing when he gave him these two games to get up to speed
Raya is the chosen one
I think our defensive calmness and organisation is down to Raya's inclusion. He seems to have a big influence on our shape and ensuring we maintain possession dominance.
So, so strong at catching crosses.
Fills me with loads of confidence. So composed.
2 starts, 2 clean sheets.
Sorry but it's over for Ramsdale.
He's ridiculously calm and just oozes confidence.
They way he claims balls like it's nothing is mad.
Big trst against Spurs now. He has another performance like this we're in business.
The best part is they thought he was a guarantee to head there in the last window

There's a thread on their forum called "Have we signed David Raya yet?"