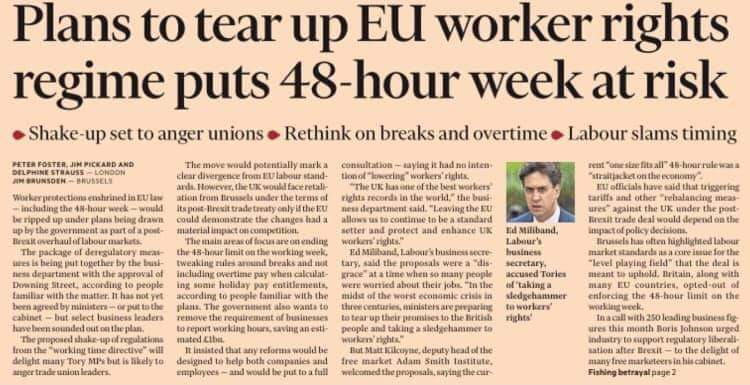 This is probably just newspaper speculation, I'm sure Brexit isn't going to be used as an opportunity for The Tories to fuck the regular working person.
To fuck the regular working person is the basic Tory ideology - always has been.
Meanwhile in Ireland they looking to add legislation that promotes remote working.

Leo never misses a trick. Not convinced it will be backed up by particularly meaningful legislation.
May not be, a bit like the 'flexible working' in the UK. But a lot of the bigger organisations are going WFH first. Hopefully smaller ones will follow.
I think I'd go insane if everywhere went to permanent home working lol. I can't see it going back to what it is but I need a mixture at least lol
It's not about going that way but have a WFH first policy.eaninf those who can and want to will be allowed it. With school drop off and collection, WFH helps, especially when you're trying to squeeze workouts in too. Whilst I don't miss the commute, I do miss the office and would like the option to go in when I want to with at least quarterly meetups. It's good to have a mix and there are still some jobs that require more office time.
My job is permanently remote now, save for one day a month in office when it is safe again. Its not the worst thing ever, but I certainly didn't choose it, and I think its healthy for me to get out the house and for me and my other half to not be around each other 24/7, so I'll be looking for some shared working spaces nearby and using them a couple times a week (again, when safe).
If your job goes full WFH you should look into similar, I think it's a good solution.
Nah it's not going full WFH. Office is still going to be open. Scheduled for reopening in April

I've been going in on Wednesdays since July to scan in the mail and that brakes up the week into two blocks which I like. Although since 2021 we've had to get permission slips to say we are allowed out since we're in lockdown lol
I used to attend a WFH meetup once a month. I also like working at a cafe, so this is also an option. There are plenty of options out there to still get out of the house.
I would happily take remote working permanently but that's largely because it gives me more flexibility and control over my day.
I can take a 2 hour lunch break now and go gym during the day and when I sign off at 5/6pm I know I don't have to worry about the hour journey home and the feeling of complete exhaustion.
Must be significant savings on public transport for some and petrol for others and travel time in general?
Let's be honest, those of us who can work from home are all just sleeping for an hour extra in the morning

All those Scottish Tory fishermen…
We tried to warn you. Tell you that independence was crucial for your livelihood and as urgent as we made it out to be.
How do you feel now?
"Working from home was great and I was earning a fortune," said Ozil, just before he left Arsenal.
I always found it mad/sad the lengths people would go to to work in London. All those people with £5k+ rail season tickets travelling for an hour and a half on crowded trains and tubes to get to the office when they probably live somewhere that's perfectly fine, or may even have to move somewhere closer at further expense.
Hopefully people going forward can have more options for stuff like this that means they don't have to make all their life choices entirely around their career. I certainly prefer living in Bournemouth to when I used to live in London and the only reason I'd even pondered going back was for career opportunities which now seem to be opening up more in some fields
So, uh… how's the whole "independence" thing going for you?
Fine so far. Vaccinating loads more people than they are in the EU because of it.