Was it low? Was for me. Don't need to see a rematch.
Going to be a subjective one, for me it was on the belt and the belt was just covering belly button, so I think it was a good shot…
Usyk got away with one imo.
Think Fury may actually want to fight Usyk now
It was low, but the referee allowed Usyk to milk it. A big heavyweight is Usyk's nightmare. AJ must be kicking himself for fighting so timid.
Fury will really hurt him.
This is some redemption performance from Eubank Jr thus far
CHRIS EUBANK

Won that with ease
Eubank is supposed to do that to a naturally smaller fighter. Still couldn't put away a smaller, injured fighter. A top middleweight smokes Eubank.
I do feel like the first fight ended up flattering Smith a bit and tonight vice versa. It all is what it is though so fair does to CEJ.
Joe Cusumano tested positive. WTF is going on at M Room?
Their doping scheduling has gone to shite by the sounds of it.
MMA or boxing? Sounds like a really stupid matchup either way. Either would win in their respective sport.
Ngannou has no chance in a boxing match, I don't care how hard he supposedly hits.
It's in boxing, no top-level boxer would dare come to MMA in their prime to fight a top MMA guy. So many thinga boxers rely on are nullified so easily im MMA, the stance, the lack of being able to go to the ground, even the fact that you have a count in boxing.
I hate the whole idea that we can have a single fight that represents boxing v MMA cos it'll never be a fair fight.
Zhang vs Joe Joyce 2 on the TNT Sports 2 HD channel this weekend (Likely in 4K UHD aswell for the lucky ones)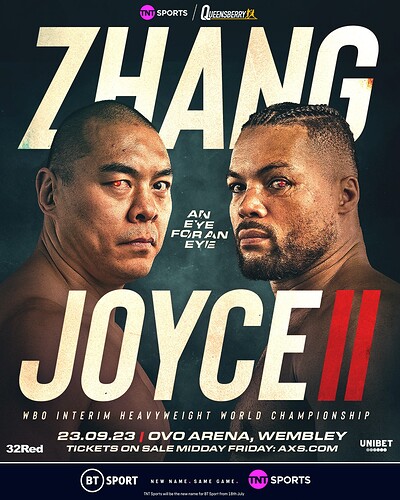 People thought he could beat Fury or even Usyk. Loooooool!
They ain't messing about with the Fury vs Ngannou undercard - fooking hell.

Heard of Parker, and that's it.
Underwhelming as the main event.
Funny how Edd will be on the other side of the world that day