Weird mistake but still one of our most consistent and top performers.
That was a fucking atrocious mistake. He's been really solid this season but some proper clown ass shit there.
He's lucky that Luiz already threw the game earlier so his error won't be seen as costing us the game. Do that at 1-1 with 11 men and he gets slaughtered.
How many games is he suspended for?
If I was famous and had social media I limit comments on my posts to people I follow. That's what I see a lot of people doing these days.
If I was famous I'd just turn comments on for who I'm following only aswell. Not worth the hassle
so many sick people out there
Leno is like Dracula , he hates crosses .
Can't seem to keep a nought nowadays either
Very clever
I had to think about that one
Leno is more vocal that I thought.
Looked like Amartey wanted his shirt at the end there too.
Quietly having another impressive season imo. After years of total clowns in goal it's weird not thinking about needing an urgent upgrade at the keeper position.
Anyone blaming him for the goal we conceded?
I really can't. Our goalkeepers have been instructed to make that kind of pass since Arteta arrived, and we usually handle it pretty well.
Xhaka to blame imo.
Not Leno's fault at all. This is exactly the situation we want here. Burnley were pressing with six and keeping four back. We've sucked them forward and now its an easy first time right footed pass from Xhaka to Luiz in an acre of space and then he'll have the opportunity to play it forward to Odegaard or Chambers (off screen) and we have a great chance to break.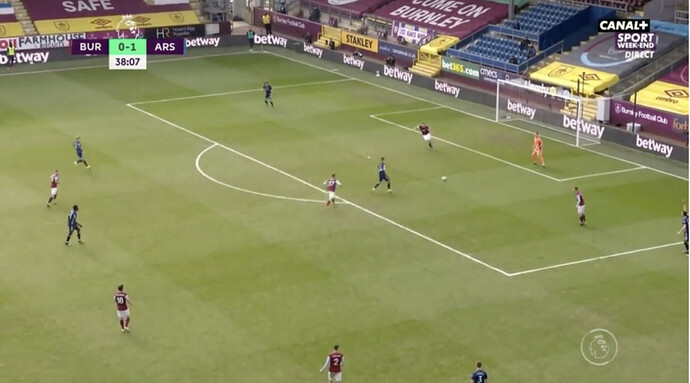 God, that Xhaka can't play that pass is basically exhibit A as to why we must upgrade.
Fuck me how many times we'd be able to attack quickly if this guy wouldn't slow it down and play it backwards if it's not perfectly on his left pogo stick.
Wouldn't call that a first time right footed pass. It's way too risky, especially since he's left footed. That's why he took a first touch and (I presume) tried to lob it over Woods to David Luiz. Which was the right thing to do there, to bad he sucks.
Imo he had two choices there.
1: Pass it back to Leno (so he could boot it up field).
2: Take a first touch and hit it left for a throw in.
Bonus option: Dribble it over the line and give Burnley a corner, signal the bench to inform them that your going off. You just realised your limits as a football player and ask for a free transfer to the Icelandic second division.
I would say it's a fairly simple sidefoot and if he hits it with a decent amount of gusto it will get to either one of the 2 guys there.
I'm shite at football and I'd trust myself to make that pass on my weaker foot.
So it worries me that I can't trust a professional top level footballer to make that pass.
I feel like we are overcomplicating simple things.
Agreed. If the guy trusts himself to lob it to Luiz there with his right foot then surely he can pull off a simple sidefoot pass to someone else there.
Forget that incident, he made a huge save at 1-1 to keep us in with a chance of winning. Thought that was a a guaranteed goal when it came to Woods.
Huge save and a reminder of what he brings to the table.