Little bit funny.
Dame must be okay with letting CJ go. He wants his Draymond.
He should have been ok with letting him go a couple of years ago.
CJ is the colleague that doesn't do much work but you keep him around because you can joke and laugh with him, that duo should've been separated a long time ago.
Simmons can't shoot, so Dame can do the shooting all he wants.
That makes sense
This makes sense. The two centers both have value with Sabonis being selected as an Allstar.
Turner has good value for a contending team. Excellent shot blocker and can space the floor.
LeVert is a bit meh. 6th man status beckons.
LaVar low key right on this
Warriors will make the playoffs but I think they have a problem. Teams are having more success taking Steph out of the game by putting long, physical defenders on him.
Started with Brooks last year, Terence Mann had a bit of success, Mikel Bridges a few weeks ago and now Thybulle. And when Steph has an iso, he's not getting the same separation he once he did.
He's taking a lot of threes which may be down to the record being in sight, but it's the two pointers that are missing from his game. Those shots aren't going in like they did before.
Pretty sure this is not going to be a problem over an playoffs series. Don't think these guys can get to that level for 5 or 6 consecutive games. You mention Mikal Bridges, went they played them a game later he lit them up and went 6/11 from the 3 point line.
Phoenix off a back to back and had no Booker.
These late game situations where it's tight and defences are locked in, the Warriors have found it difficult to get a bucket. The hope is Klay will give them another option, but I think that's asking a lot of him personally.
Can Steph get hot? No doubt, but I'm not sure he's the best closer. I've already mentioned the difficulty he's having getting separation. I think that will tell in the playoffs.
I hope I'm wrong

Warriors vs Suns both healthy would be a really fun Western Conference finals series, I really hope that's how it eventuates.
Which idiot franchise would entertain trading for Russell Westbrook?
Pretty dire contract to trade for given his current level of play and more importantly impact he has on teams.
!
Warriors have got to find a way to keep Steph effective in these situations. If Draymond and Looney are the court it allows multiple players to key in on Steph.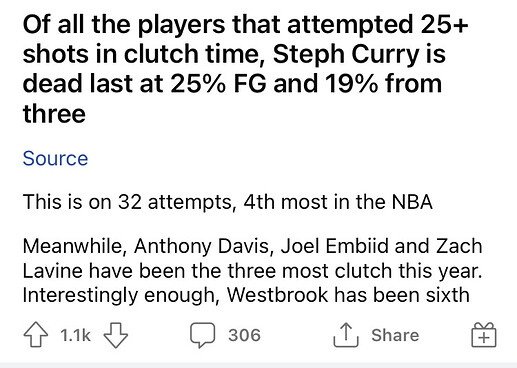 Tbh clutch situations is probably the only real weak point for Steph over his career, I remember him having a poor shooting night vs Toronto in the close game 6 loss also and missing a late 3 which was a good look.

Why Karl?? Has the man not suffered enough?
Health protocols is out of control.
I think the time has come for the NBA to set a precedent. If the players are vaccinated and have the boosters, if you test positive and you're not symptomatic, allow the players to play.
EDIT:
Absolutely Asymptomatic players shouldn't miss time.
Kind of bull shit tho that they had enough guys out to postpone games. The Lakers are missing like 6 or 7 guys but we are gonna have to play a full strength Bulls team tonight?