Yep can watch replays etc I think
If anyone will stand their ground it'll be Kyrie Irving.
This is what Wiggins had to say when asked why he took then vaccine…
Can't be bothered to screenshot again, but the paragraph before says how Wiggins tried to get a religious exception but was denied.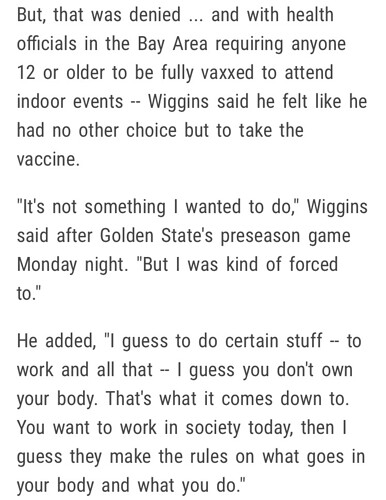 Well said Wiggins respect the honesty

There's no certainty that this form will continue, but Jordan Poole has been looking like a fringe Allstar.
Had a fantastic start to the pre season.
Bulls are finishing top 5 in the east btw.
Yeah decent show, I think the Nets, Bucks, Miami and Philly will probably be better.
If the Nets get the Knicks in the playoffs…
Be better for the league if some sort of trade happened that allowed Irving to go to a team that didn't have these sort of mandates in its jurisdiction.
Wouldn't underestimate Atlanta and the Knicks either. Atlanta's young guys are a year older and I expect Kemba to step up in New York. Thibs had a good first season.
Agreed I think the Hawks and Bulls may be above the 76ers, especially if Simmons doesn't play.
East is starting to look somewhat decent now. Philly, Bucks, Nets, Miami, Knicks, Hawks, Bulls and then even those teams like Indiana and Charlotte.
Boston would Tatum and Brown won't be awful also.
Folded, knew he didn't have the stamina.
Looks like a lose-lose situation for both parties to me.
Interesting stand by Irving.
How does the money work? Does he still get paid? I assume he does as it's the team sitting him?
Kyrie will get paid paid for missing away games only. It's the Nets choice to not use him in those games.
For home games it's out of their hands due to the state wide vaccine mandate that effects games in Brooklyn.