Nope the council wouldn't allow it unfortunately, that was definitely a giant kick to the crotch.
"…but I'm not a woman so I always stay on my feet…"
#Cancelled
He stuck to this policy for only a couple of months (see France v Spain WC2006)
It's the way they all collectively sat down in an effort to hush their celebrations.
Not even watched it and I can still say his Arshavin December 2009 goal at Anfield.
That was a finish of immense immense quality. I don't care if you have two Pepe Reina's in goal he's not saving that
Yeah I miss Andy Gray, he's on Bein Sports now with that other guy. I actually really enjoy the way they cover the games, always big ex players and managers on as well including Papa Wengz.
There's a Paddy power meme in the making here.
I bet that went down well with the spurs lot.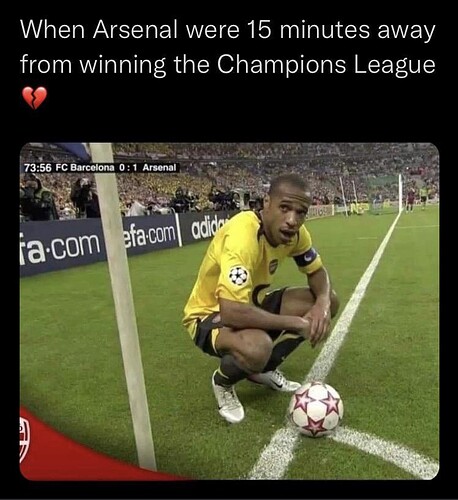 No matter how many times this gets uploaded it will never stop hurting. Honestly this is the most painful footballing moment for me, whenever I think about it, it still gets me vexed.
Fucking Jens Lehman man
Can't entirely blame Jens though, that handsome man in the picture could have made it safe for us…Oh well, next time perhaps…
Bummer it's rough, especially when you pretty much know you'll never get the opportunity back

.