It might have taken 32 years but we got those Bury fuckers back.
Last time we played them was 1959 in the cup. Won 1 0 David Herd at their place.
Did those cunts forget their away kits and have to borrow ours?
Same again on Sunday please

No that's Nottingham Forest in yellow.
Nice posts @arsenal8 @arsenal228. Always good to have some history highlighted on here. I must point out though that multi accounts are not allowed on OA, so please stick with one account.
Not that I'd ever doubt you, Stroller, but that c*nt jumping looks like Peter Reid and that crest on Forest' jersey doesn't look like a tree
There's no need to create another. If you want to stick with one of them but, for example, want a different username I can make a small change. Tell me which one you'd prefer to keep. No need to start again

Yeah cant really make out the crest. Only other home game that season before this one was Southampton who would of worn blue.
Last game at home of the previous one was Forest. Reid would of been at Bolton at the time and they didnt have a yellow kit.
I thought the player on first look was Ian Bowyer. Not sure though @arsenal228 can you help on this.
No. Do not do that. What is the problem exactly???
I would personally drop 'arsenal' and just create a account with random numbers.
We already have an Arsenal history thread? I thought you all loved merging all of a sudden @shamrockgooner

It's on my list but I'm a lazy cunt.
Would be good if both parties didn't bottle it.
Strangely enough, the reason we wear red is because the opposite happened.
They gave us a full set of red shirts when we started out and we presumably didn't have any, and have worn variations of that since then.
As for the photo on the programme, that looks like a very young O'Leary watching at a rather old Pat Jennings.
I'm not sure who is going up for the header but, if it is Nottingham Forest, the other player looks a bit like their winger Robertson.
It's Forest @DavidHillier. Had a copy of this on eBay and zoomed in on the badge.
Been around my mates whose a collector and he checked eBay.
Pushed me hard there fellar.

Lol fair play. Wonder who the reid lookalike is…
Today Arsenal signed Mesut Özil. No sarcastic/negative/melancholic inspired replies please. Danke!
But then it happened. At just after 10.30PM – four and a half hours after I'd arrived – the news that everybody was waiting for finally came. Geraint announced to the crowd that the deal had been done and he did so before even giving his spiel to camera. And for that, they loved him; he was now the man who held the scrolls that would change their destiny, the PR prophet, Moses with a radio mic. One fan at the back of the crowd even gleefully announced that, "Right now us mandem are the only mandem in the country that know right now." They went berserk, drowning him in limbs and club paraphernalia like he was a confused dad at a Pendulum concert.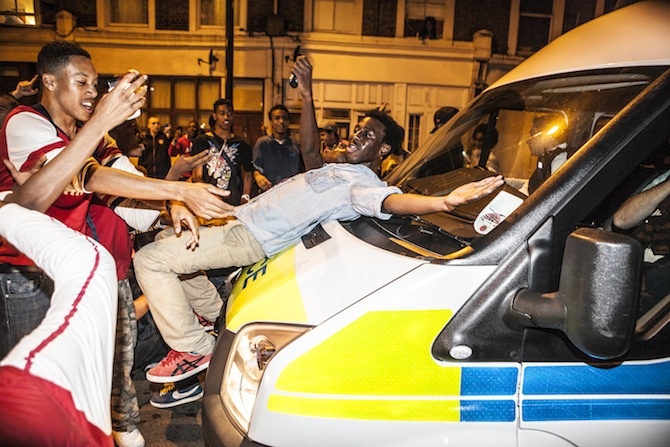 People will no doubt look at the image of a guy in trainers splaying himself against a police van as a show of civil disobedience or an indicator of the thuggery and stupidity of football fans. But honestly, it was nothing like that. It was just a display of pure, uncontainable joy; the kind you rarely ever see in public, especially not in London (and especially not from Arsenal fans). Even the cops were laughing and the cops hate everything.