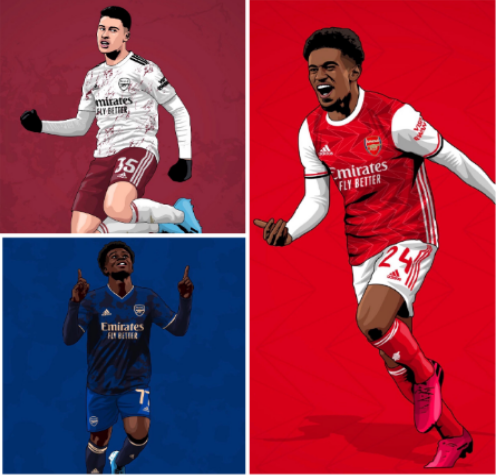 Not really. I suppose if I was really angry with the board I might stop, but I'm only simmering.
I've been buying Arsenal replica tops since 1986 from the club so it's a thing for me now.
Former Arsenal Goalie Jack Kelsey served me the first time I went to the tiny Club Shop next to the South Bank. Different times.
Hopefully the away kit is too 'kit clashy' for teams wearing red so we are forced to wear the lovely 3rd kit.
I love Auba

pls stay
Yellow and Blue versions would have been fine for our away and third kits.
I was looking on ebay for random arsenal related items and this popped up
It was available at one point on arsenal.com in recent times wasn't it?
and in the suggestions at the bottom of the page this popped up as well
I hope (but doubt) we fleeced those Emirates Airline cunts for changing the logo.
I don't really get it. By this point people know what Emirates is don't they? Why not just have Emirates there? It just cheapens their own logo. Chelsea don't have "3 - Unlimited Data Plans"
Third kit is easily the nicest but they're growing on me.
Fly better? The away kit still looks like someone flew very very badly!
I love the home kit now.
Away is still fucking horrendous.
Third is very nice.
2/3 isn't bad haha
Those two words, and the campaign that belongs with it, probably have millions of marketing budget go into it. I reckon it works for those big companies, who turn every penny. Otherwise it would be a stupid decision, indeed.
That third kit has to be a fake. There are about four different shades of gold going on making it so messy.
It isn't. Football headlines are reliable and have said the third is tye dye
It's probably just lighting rather than it being actual different shades of gold
I like all three.
Will try to get them all this time next year in the end of season sale.
The home shirt isn't my dream, but I don't really mind it. It's got a red body and shite sleeves, it'll do.
That away just still looks absolutely fucking awful.