I think, and someone correct me if I'm wrong, but on the books it will show that we paid £30m for Mkhi as a straight swap is based upon the value of the players and both clubs values said talent at £30m.
I could be awfully mistaken but I remember reading once that the books will show £30m.
I mean, even if a monetary value has been placed on the two players, we simply didn't pay a transfer fee, did we? I dunno, to me a transfer fee is money, if you traded a player with them then you didn't pay a fee, you traded one asset for another.
Also, and this probably doesn't hold water haha, but what happened was we accepted Mkhitaryan as payment for Sanchez, if anyone could be said to have "paid a transfer fee" in the form of trading a player, its United who did that, not us

Cheers mate, that is a nasty fuck up. Have amended! Appreciated. Up the Gunners

I agree mate but I think it's the way clubs cook the books so Mkhitaryan will show up as £30m transfer for us so even though to me it's a straight swap - I think officially we spent £30m on him.
Question 11 really should say "in the premier league". Also question 2 says originally called and we were originally called Dial Square so that wording could be better too.
Other than that I had fun playing.
You got 9 out of 15 right!
Not so bad
I'm not OA worthy

om fuming
14 out of 15 otherwise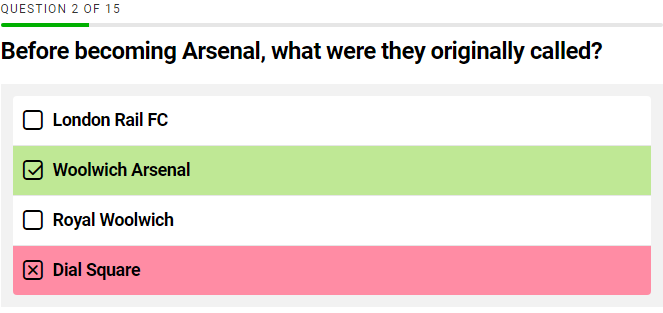 Cheers shamrockgooner, I have taken you notes on board and amended. Glad you enjoyed it! Fingers crossed for tonight!
DOH! Cheers man, I have fixed that bad boy. Glad you enjoyed it! Fingers crossed for tonight!
13 out of 15 because I'm amazing