Odds are against Laca going with it anyway, as opposed to getting a big payday with a signing bonus with another club. I would rather we let him go and replace, but I can see how there will be much dithering among Arsenal executives over this.
Really need some of the current momentum of the summer window carrying on now.
Can't afford these sort of treading water deals again.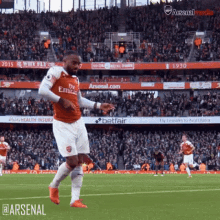 This is where we need a 60-70m signing, not Sterling, which makes me consider Sterling less likely if we are going to replace Laca. If not Vlahovic the only question is who. Maybe Isak.
Time for another Swede - let's get Isak.
Laca actually looks slim and lean there lol
Bit like getting props for doing the most obvious thing in the world but he'll take it
Or it's a sign of a bit of better judgement
Know better when we get a replacement.
Just a damn shame about the Xhaka extension, the clear-out would of been very dreamy.
Yeah no tick for that one.
Better judgement for going with the only credible option, can give him credit for some stuff lately but not denying Laczaette a contract
This is Arsenal, good decisions are scarce within these lands. Take 'em when they come.
I don't want to be policeman, but that source isn't necessarily watertight, so we'll have to see what Ornstein, Romano, and others say.
It's not compulsory mate. Just an observation as I see it.
Calm down. Messi is on tomorrow.
Has Arteta/Edu actually signed a forward?
Willian I guess but looked how that turned out. There's no track record on that front
Ey ey don't go destroying our hope and vibes here. I'm on my knees here.
Most definitely, just looking at the handle likely means it's bollocks