Quite a big fall from grace for him in the last years.
His fight with Bould changed his career as his wallets.
Post this incident, Nothing was ever gonna be better or worse for Song.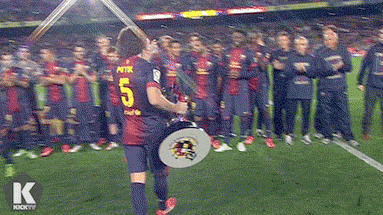 Shut have kept quiet when Barca came calling.
I can only really think of Alex Hleb who made a bigger mistake by leaving us. Oddly enough, the destination was the same.
Currently training with Arsenal as he has left Rubin Kazan.
Take him on a six month pay as you play deal?
It's a race to the bottom between Xhaka and Song!!
Cant be worse than Xhaka. Sign him up
Have him and Steve Bould made up then? Remember the rumours that him and Bould had a fight before he left in 2012

Yeah that's weird, you would have thought he would never be welcome back at the club after that incident.
Please not another Flamini case where he'll play a couple of good games and then we won't get rid of him again in time.
it's something we've done before with Flamini and Sol Campbell so I won't rule us out of resigning him, but we've also let loads of previous players train with us in the past and not signed them, so who knows
This would genuinely be a horrible horrible choice.
Just let him train lol.
The club doesn't do dead wood anymore breh.
He better find another club to sort his pension.
If he will accept six quid an hour or whatever minimum wage is I could get on board with a contract until the summer.
Cannot wait until we see a double pivot with Song and Xhaka starting against Napoli in the EL semi-final.
Would be Arsene's greatest middle finger to European competition since he started Yaya Sanogo against Bayern.
he was good up until he left arsenal but then he messed up and moved to Barca, glad Wenger admitted the other day he was just training and we wouldn't resign him