Around €5m difference according to the tweet below. Increase each bonus by 500k like it's Football Manager.
https://twitter.com/hlninengeland/status/1404669044301701122?s=21
https://twitter.com/david_ornstein/status/1404694460701810690?s=21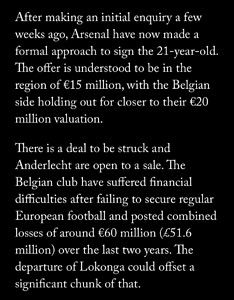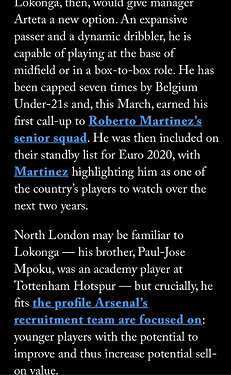 I'd be happy to take him but he's not the answer for next season as we need a ready to go player in such an important position for us.
With Ceballos gone and Xhaka almost fucked off, that leaves us 2 men short.
Lokonga is at least one body to bring into midfield. Like his profile, like his skillset.
If we fail to move out Guendouzi and Torreira, we actually have 5 CMs with this purchase + Willock and Azeez. Want us to freshen up the midfield more but we just can't do it unless we are able to sell.
Just pay the money and get it done
This sounds like an opportunity to me, not necessarily Xhaka's replacement.
It's a good indicator that we have the capacity for those during such a busy summer.
Lokonga has more experience than Gabriel had when he came here. Albeit it being in a different League. But I reckon the Scottish League isn't that good either (Tierney). A 21-year old with his experience doesn't really seem like a project.
At £17m and 21 years old I feel like the there's fairly little downside risk and we should just pull the trigger. Especially as we've lost Ødegaard and Ceballos and will hopefully finally fuck off Xhaka.
Sounds like he could be a bit of a midfield prodigy, so I don't think we should dilly-dally now.
Yeh I'm always a huge fan of these types of deals as long as they're in addition to someone a little more finished and matured in their career.
The stats here are pretty impressive, especially for a 21-year-old.
This feels a bit like a classic Wenger signing from the 2004-2010 period when he still had his touch. Hope it happens.
If it was a classic Wenger signing we'd never sign him then but have a claim to fame for having almost done so when he becomes a top player

Not sure if this post was written by @Darkseid or @InvincibleDB10

Never heard of this guy before, so don't know what to expect or feel if we do end up signing him.
Looks like a good signing, comfortable at RB as well as in Midfield. Likes to run into space and can be a problem for opposition defenders. Likely not coming in as our first choice next to Partey, but we need better quality in the middle. Losing 3-5 midfielders this summer so we need more than just a big name coming in, we need to buy at least 2 new central midfielders.
Only just realised this dude's name is Albert. Great fucking name.
It's just taking a little Lokonga than expected is all.
We'll always Lokonga bright side of life once this is confirmed.