Ramsdale for 40m when Ryan is available for about 30m less

But nah 40m for a goalkeeper who has been relegated twice is ridiculous. Even we can't be that dumb, right?
And his poor performances played an important part in the relegation too
This reminds of when Butland was hyped and Stoke wanting loads for him when they went down. Think they ended up getting a couple million for him after he stuck around until the last year of his deal

Speaking of Butland, isn't there someone like him we could get for a couple million to be a back u keeper that we avoid playing unless we absolutely have to?! It's not like were in Europe or anything, so just have Leno play literally every match he's available for, there's no need to rotate that position in a season like the one we have coming up.
FFS was hoping he'd never get his own thread.
And how has his value gone up in a season where he was as useful as an ashtray on a motorbike? They're as high as kites over at Bramall Lane if they think he is worth £40m.
I think this is Arteta and Edu trying to be clever.
If Leno is going to run his contact down they think they're being smart by shelling out a lot of money for a guy who isn't good enough in the hopes he might be good enough to start by next year.
You can get away with a gamble like that at other positions (like a certain exiled centerback we have on the books) but not at keeper. We could end up next summer with Ramsdale, Runnarson and a youth keeper. That's almost certainly going to force the club back into the market to buy another keeper.
In a summer when I think most of us thought keeper and center defense were low priority areas Edu and Mikel have conspired to spend the better part of €100m on two guys who aren't really going to improve the team. Nice work.
When they were asked how much Ramsdale is worth, they must have thought we meant how much their whole squad is worth.
Aren't they also kinda pricing Berge out of a move as well? If European clubs are broke and the PL teams are the only ones coming to call it makes sense. They could run it back and maybe go up again.
Ramsdale is fucking dog. Hope this is all BS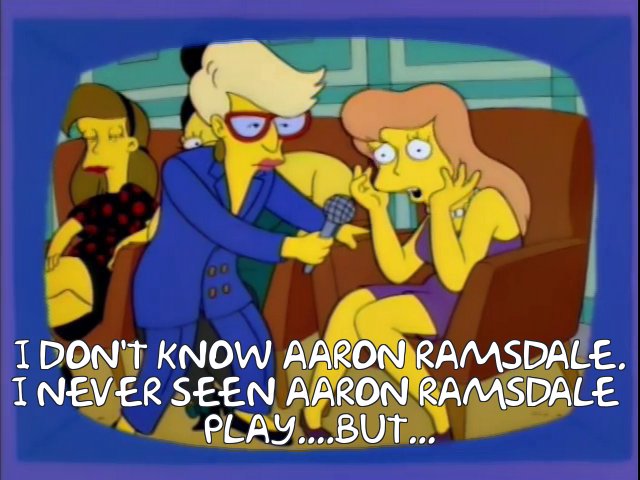 That's unfair to dogs tbh
He's dogs dinner, the really shitty stuff
We pray

Just get the Onana deal done ffs. He's like ten times cheaper than Ramsdale
Put another 0 on the end of the ten
Onana might end up at Inter?
We're looking exceptionally stupid in the market right now.
Ramsdale, Nuno, White (maybe?) = £100m
Fucking hell when you put it like that, we need to sign some new staff before anything. Arteta, Edu and anyone else who thinks they will improve our squad need fucked off
It just doesn't look great atm.
They're briefing The Athletic all the same nonsense but at the end of the day it's still inadequate and the product on the field isn't going to get better if the coach isn't able to get the most out of them. I just don't think Arteta is the right guy. Maybe he'll learn to be less cautious, learn to work better with different personalities and be less stubborn when something isn't working. This is still his first job. But I don't trust him rn.